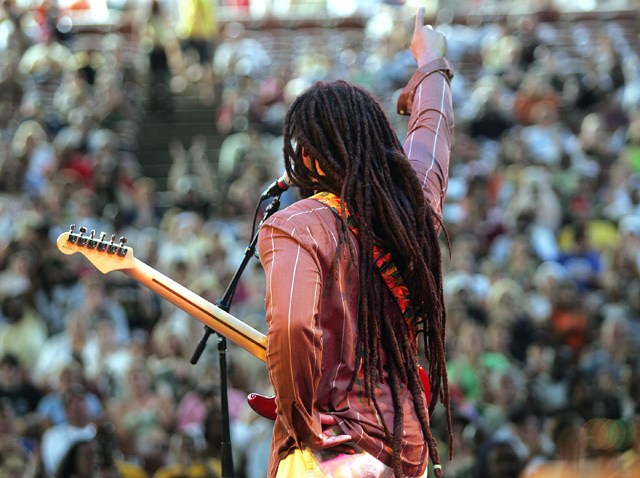 John Fogerty made his name as a member of what was arguably one of the most influential bands of the Vietnam War era. With Credence Clearwater Revival, Fogerty was the voice behind classics such as "Proud Mary", "Bad Moon Rising", "Down on the Corner" and the anti-war anthem "Fortunate Son". But John Fogerty has done alright on his own as well. His solo hit "Centerfield" is often heard in baseball stadiums around the country, and you can still hear "The Old Man Down The Road" on the radio from time to time. Fogerty brings his decades of music to the MGM Grand Theater at MGM Grand at Foxwoods Friday night. The show starts at 8 p.m. Tickets are $35-$65.
They've been described as bagpipes with attitude, and it's said they put on a show so hot it carries its own health warning. So if you're looking for something different, check out the Red Hot Chilli Pipers (read that carefully), at The Bushnell Friday night. The band has toured from New York to Bejing covering rock songs from Queen to The Who. Tickets to the 8 p.m. show are $38.
His father was a legend, but Ziggy Marley has done alright for himself too. He's appearing at the Ridgefield Playhouse Saturday to perform his own reggae hits, including "Tomorrow People". The show starts at 8 p.m.
You have two chances to catch the USA Women's Basketball team in Hartford this weekend. The team is a virtual UConn all-star team, including former players Sue Bird, Diana Taurasi, Swin Cash, Tina Charles, Asjha Jones, Renee Montgomery and current UConn Senior Maya Moore. Don't forget Geno Auriemma is on the sidelines as well. Team USA takes on Australia at the XL Center in Hartford Friday at 7:30 p.m. They play Spain on Sunday again at the XL Center at 1 p.m.
If it's September in Connecticut, you're sure to find a fair or two on the weekend, and this weekend is no exception. The North Haven Fair is on from now through Sunday. Of course you'll find rides and food (lots of food). But where else but a fair will you get to see Rosie's Racing Pigs? There's also entertainment including The Driftwoods on Friday, Ricochet on Saturday and Rivermud on Sunday.