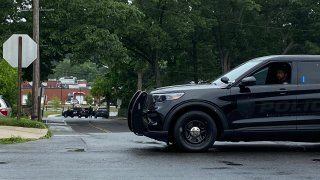 A report of a suspicious bag at West Haven High School prompted an evacuation on Monday.
Officers said they received a call from someone reporting a suspicious bag inside of the high school's main building.
The report prompted an immediate response by the West Haven Police Department and Connecticut State Police Bomb Squad. Police said the school was immediately evacuated and all students and faculty were kept in safe and secure locations.
After the building was inspected, authorities said it was deemed safe and was released back to the Board of Education. Officers have since left the school.
Authorities said nothing credible was found.
The incident remains under investigation.