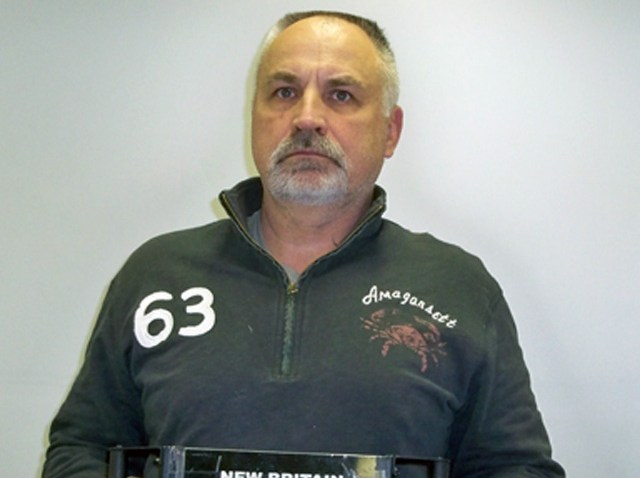 New Britain police say John Bizis, 61, of Newington spent three years terrorizing the family of the woman who fired him, sending graphic and vulgar mail to her, her children, her husband and her 93-year-old mother.
The harassment started in 2007, Diane Moriarty, of Kensington, said. It was sometime after she fired Bizis from his job at the Mercy House and Shelter in Hartford.
Moriarty's children were the first to receive letters that addressed their being adopted. In part, they read:
"Your mother wanted a pretty daughter and what she got was ugly you."
"'Do you think Ed and Diane (parents) would bother with you -- even want you if they could have a real child of their own."
Some were worse.
More recently, this summer, Moriarty's husband received an email at work, which was also copied to two coworkers.
"You better keep a tighter leash on that sleazy B****'."
And, there was also an instance, the Moriartys said, where Bizis showed up at their daughter's soccer game and he sent one of the harassing letters to her at school.
But the final straw, Moriarty said, came in August when Bizis sent a letter to her 93-year-old mother.
"It would have been better if you miscarried her or she died at birth," it said, in part.
Not only was the content of the letter disturbing, it also made clear that Bizis had much more personal information about Diane Moriarty than he would have had access to at work.
Police served a search warrant on Bizis' home in September, at which point he confessed to the campaign of terror and said he was getting "professional help" to get over his anger at being fired, police said.
He has been charged with second-degree harassment and is expected back in court in January.

Follow us on Twitter @NBCConnecticut, on Facebook, and sign up for breaking news SMS alerts on your phone by texting "CTBREAKING" to 622669.