Afternoon Update: The storm is now over. The impressive thump of snow behaved pretty much as expected with moderate to heavy snow across the state. The colder solutions on our models verified - and then some - effectively delaying the changeover to ice until the storm was over. In West Hartford I had 6.7" of snow/sleet but I would say maybe only 0.1" of that was sleet and there was no glaze of freezing rain.
The colder trend allowed the shoreline to cash in (around 5" on the shoreline near New Haven) and allowed the Hartford area to perform a bit better than expected.
The jackpot amounts were up in the Litchfield Hills where a small area of 7"-8" occured in places like Burlington, Harwinton, Riverton, New Hartford and Hartland.
A bit of freezing drizzle will make things slick tonight so take it easy on the roads.
Morning Update #2: Snow is quickly changing over to mix and ice on the shoreline. As expected we got a nasty thump right around 8:00 a.m. on the nose of that stronger low level jet.
One thing to watch is freezing rain over the next few hours as warm air moves in aloft and begins to melting the snowflakes totally above our heads. The cold near the ground is impressive and is not going to be dislodged any time soon. Icy!!!!
Morning Update #1: No big changes to the forecast this morning other than to upgrade the snow forecast along the shoreline by a category. Cold air will hold on for the New Haven area a bit long as I thought was possible yesterday. 4" or 5" for metro New Haven now seems like a pretty good bet.
More to come...
[[407192516, C]]
There has undoubtedly been a trend today for a colder storm on Saturday. The result? More snow in many areas and an icy Saturday afternoon as temperatures struggle to reach 32 degrees.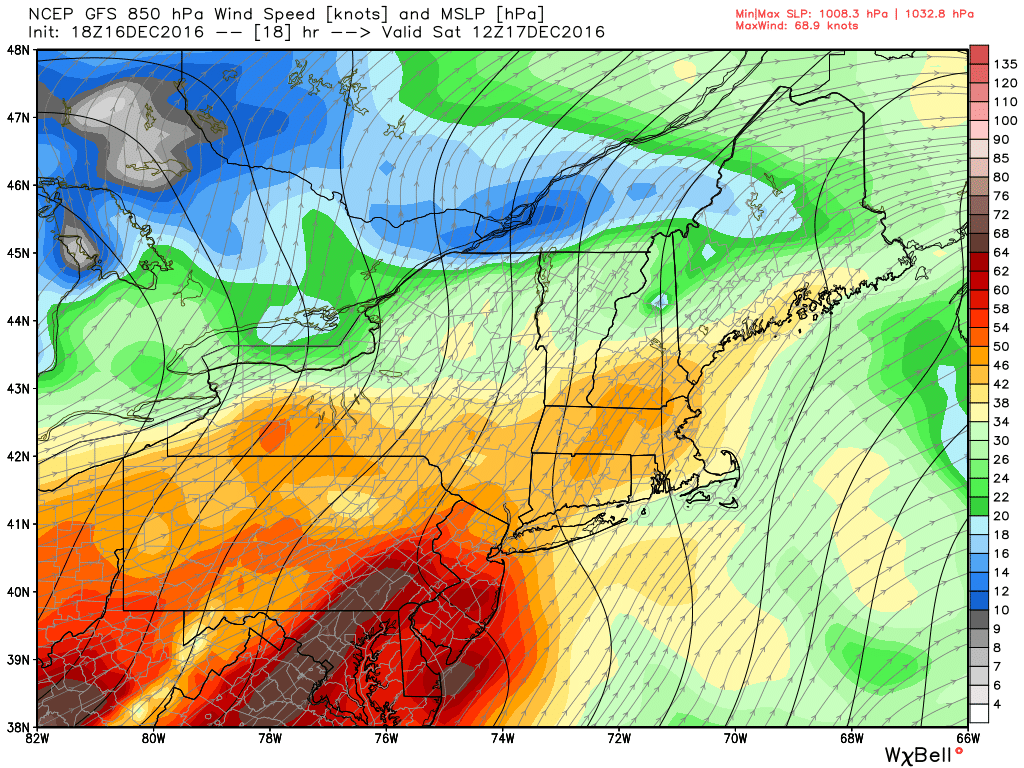 The biggest part of the storm is going to be a thump of snow between 7 a.m. and 11 a.m. across the state. We will be on the nose of a strong low level jet streak (about 5,000 feet above our heads) which will result in strong lift and a burst of heavy snow of 1 inch per hour.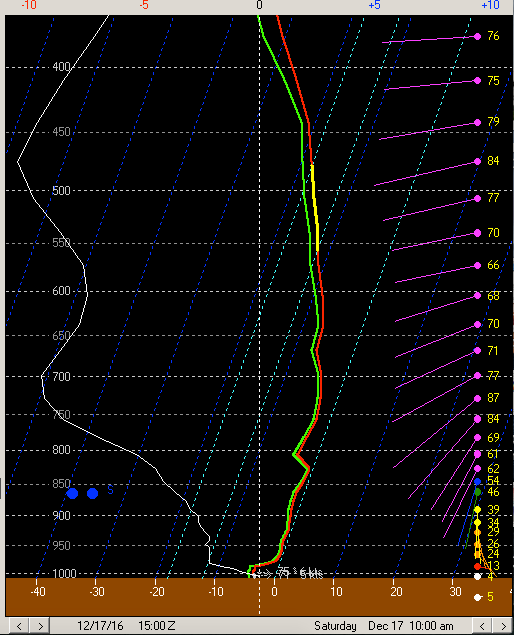 This storm won't last long but I do expect it to be pretty impactful in the morning with a good burst! This sounding for Hartford illustrates what I'm talking about - a deep layer of moisture with good lift in the snow growth zone (around -15C).
The biggest change to the forecast has been to hang on to cold temperature longer in the day on Saturday. Along the Massachusetts border I think we'll go straight from snow to freezing drizzle and pick up about 6" of accumulation. Elsewhere a period of heavier freezing rain is possible. The reason? A cold tuck as I like to call it behind a weak little mesolow that develops off Long Island. This results in a northerly wind and prevents warm from the south from moving in.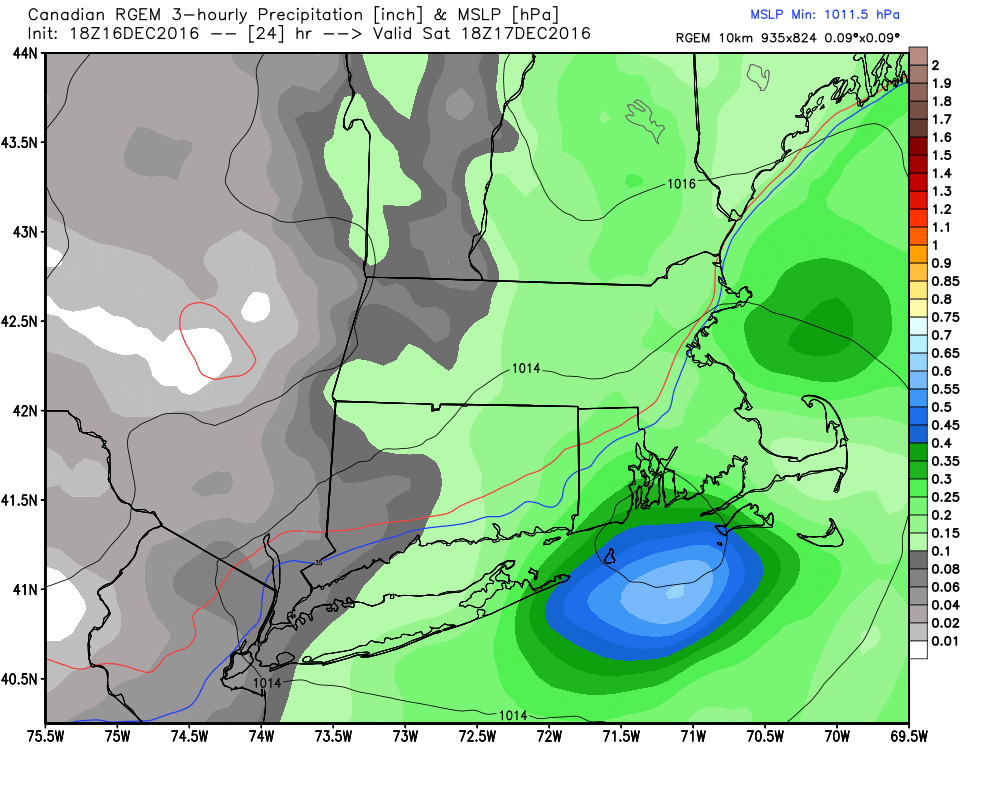 The RGEM pictured above shows the 32F line (in red) straddling the shoreline as late as 1 p.m. on Saturday. A period of freezing drizzle will keep untreated surfaces slick through the afternoon and maybe into a portion of the evening. The heavy stuff will be done by 1 p.m. or so but light freezing drizzle will continue. You can also see that potential on this sounding in the Hartford area off the NAM. Warmer temperatures aloft but a subfreezing layer right near the ground.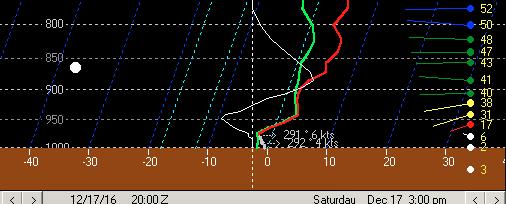 Our snowfall map is in pretty good shape this evening. This SREF plume for Bradley shows good clusting around 4"-6" of snow. I have two areas that have the potential to "bust" a bit. One is in the Litchfield Hills where a colder solution will keep things just about all snow. I can't rule out a 7" total up here. The New Haven are up through Middletown and Colchester is also a tough one. With a lot of the precipitation coming in a short period of time it would only take another slightly colder tick to result in the 4"-6" band needing to come south into these areas. We'll reevaluate in the morning.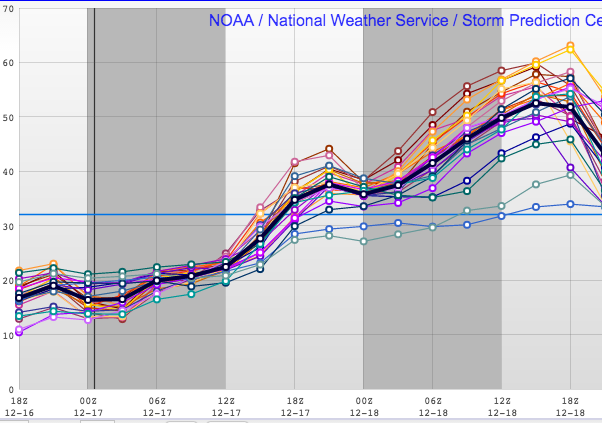 Sunday still looks rainy and torchy. Check out the SREF temperature forecast - almost all of the members bring temperatures into the 50s. A lot of melting after a chilly day on Saturday.
Enjoy the snow!