Severe thunderstorms moved across parts of Connecticut on Wednesday afternoon.
In East Windsor, storms brought trees and wires down, closing Newberry Road and Church Street, according to police. In Windham a large pine tree was struck by lightning causing it to fall across Route 14 briefly closing the road to traffic.
In East Granby, Granby, and Windsor Locks hail to the size of quarters fell Wednesday afternoon.
Thunderstorms with heavy rain and lightning will move through southern Connecticut, south of I-84, over through 8 p.m.
NBC Connecticut meteorologists have issued a First Alert for today and Thursday.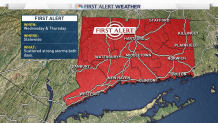 Take a look at live interactive radar.
The main threat with these storms will be damaging winds and heavy rain, which could lead to flooding issues.
Another thunderstorm threat exists on Thursday with another chance for damaging winds and heavy rain.
Make sure to download the NBC Connecticut app for up-to-the-minute weather updates. Click here for information on downloading our app.