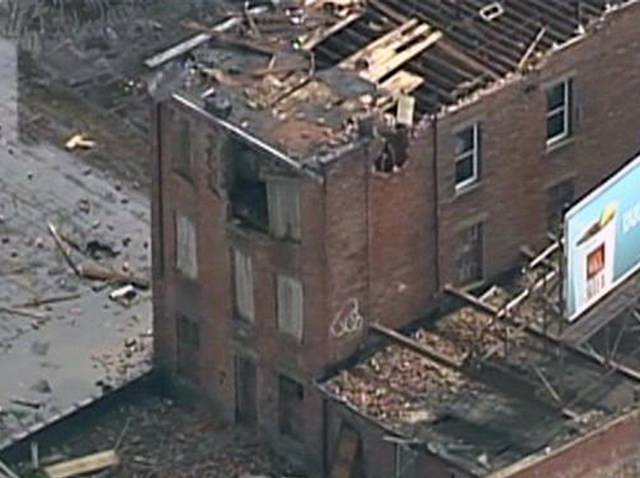 The mayor of Bridgeport issued a state of emergency for the city on Thursday and added a curfew after a devastating storm swept through on Thursday afternoon.
The curfew went into effect at 5:30 p.m. and continues on until threats are over. Mayor Bill Finch told NBC Connecticut.
"We need all the children off the streets, indoors, off the streets. We need cars off the streets. The damage that's occurred could become worse in the second line of storms," he said.
Trees are down, there are partial building collapses and the roof of Kolbe Cathedral High School suffered significant damage.
Mayor Finch said there were 25 reported injuries but that none are severe.
When he issued the state of emergency, he urged residents to stay calm and report incidents.
Gov. M. Jodi Rell toured the city on Thursday and ordered the partial activation of the state's Emergency Operations Center in Hartford.
Emergency management officials have been monitoring the storms and taking damage reports.
To help, Norwalk police provided police dogs to help with what they said are search and rescue operations.
In Bridgeport, a local emergency operations center was put into effect on Thursday on North Washington Avenue.
At Calvary Temple Christian Center, across the street from Washington Park, the storm broke a large stained glass window. "Our building is 140 years old and I know off hand it's going to cost somewhere between $25,000 and $50,000 to replace it," said Bishop John Thompson.
Kolbe high school had adjourned for the year but administrators and prospective students were in the building when the damage happened, sending rain pouting into the building but causing no injuries.
Near city hall in Bridgeport, an entire row of trees were uprooted and there are unconfirmed reports of a tornado touching on East Main Street. "East Main Street just looks like Godzilla came and grabbed roofs and wires and cars and mixed them all together," said Finch.
Connecticut Post is reporting that roofs were blown off a business on East Washington Avenue and that the first-floor windows of the Barnum Museum were blown out.
In the central Bridgeport neighborhood known as Hollow, a powerful wind gust took down massive trees, damaging homes and smashing cars. Fed Ex driver Rich Matos was o his delivery route
Severe thunderstorms and potential tornados moved quickly through the state on Thursday, damage and forcing road closures.
Reports of damage also came from Stratford which is now also under a state of emergency. Several trees have been uprotted in the Lorship section.
The Register Citizen is reporting a barn fire on Bissell Road in Harwinton with no reports of injury.
At the height more than 24,000 United Illuminating customers lost power, and more 10,000 were in Bridgeport. U.I. says it doesn't expect to get all the power back on until sometime Friday.
If you have severe weather photos, send them to us here.
People around Bridgeport have been taking video and posting it on YouTube.