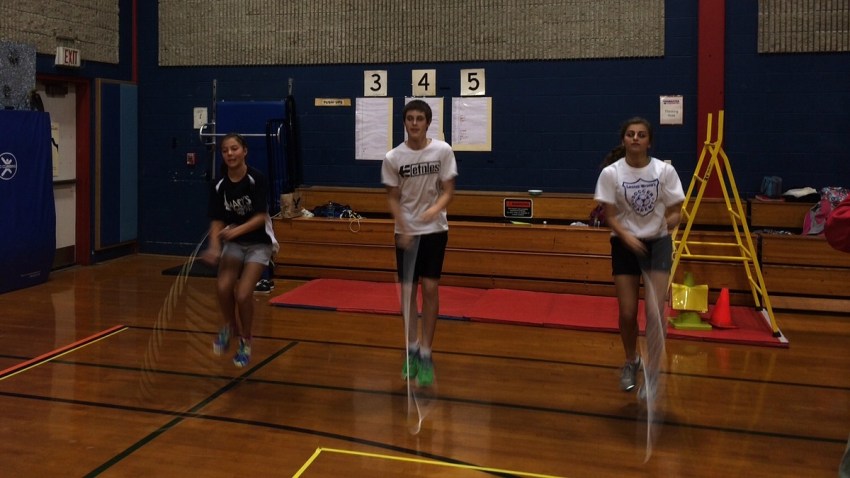 For the second time, Torrington's Forbes Flyers have been selected to join a group of jump ropers from around the country and perform at the Macy's Thanksgiving Day Parade in New York.
"We did it in 2009 and it was a wonderful experience and to have us asked again and to have eight of our jumpers asked to participate is just amazing," said Janice Harrington, a physical education teacher at the Forbes School in Torrington, who has volunteered her time teaching jump rope.
Most days, either before or after school, she's leading dozens of kids through stretches, work outs, and jump rope routines.
"I get so much from it from the kids and in addition I see what they get from it. We're almost like a family," Harrington said.
Ian Henry, a sophomore at Torrington High School, is one of the lucky few selected to perform.
"I told Miss Harrington right away that I wanted to do it and I was ready to give 100 percent of my time," Henry said.
Henry has been jumping with Coach Harrington since elementary school. He started in third grade and said he's been coming back ever since.
The Forbes Flyers is made up of elementary, middle and high school students from Torrington. Competing students said the chance to display their talent on a national stage is very exciting.
"A lot of adrenaline," said Ali Bottari, a Torrington High School freshman. "I'm going to be crazy looking at all the people."
The Flyers are part of a much larger group that will perform on the entire two-and-a-half mile parade route. They'll end with a special one-minute performance in Herald Square that will be broadcast on NBC.
Harrington called it a once-in-a-lifetime experience for the kids and their families.
The team has set a fundraising goal of $3,000 for the trip and is still working to reach that number. If you'd like to help out, you can send a donation to:
Forbes Flyers
ATTN: Coach Harrington
500 Migeon Avenue
Torrington, CT 06790