We have issued a First Alert for some light snow to impact Connecticut this weekend. A fast moving clipper system will swing by to our south during the day on Saturday.
We are expecting snow to develop during the midday hours on Saturday, and last into the evening before ending close to midnight. The snow will fall at a light, to at times moderate rate on Saturday.
With air temperatures being in the upper teens to lower 20s, this will be a very light and fluffy snowfall, of which will accumulate very easily.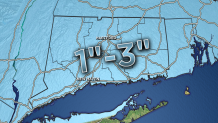 We anticapte a general 1-3" of accumulation statewide by the end of the day Saturday. If you have any travel plans, keep in mind there will be some slick spots on the roadways during the second half of the day.
In the wake of this minor snowfall, another shot of arctic air moves in for Sunday and Monday, with temperatures within a few degrees of 0 to ring in 2018.
Stay with NBC Connecticut's team of meteorologists on air and online for further updates.