Severe thunderstorms continue to move through Pennsylvania and upstate New York. The thunderstorms will continue to move east towards Connecticut.
Most of the thunderstorm activity will weaken by the time the storms reach Connecticut. The area that has the highest chance for thunderstorms tonight is Litchfield county.
Here's a look at 'Future Radar' which shows scattered showers and thunderstorms later tonight.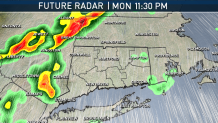 Scattered showers will continue through the late night hours and into first the early morning hours tomorrow.
The showers and thunderstorms are all part of a cold front that continues to move through the northeast.
Winds will really ramp up tomorrow morning/afternoon following the passage of the cold front. We're forecasting sustained winds of 15 to 30 mph.