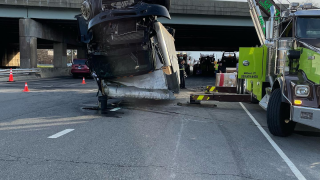 A tractor-trailer was knocked off Interstate 95 and fell onto Route 1 in Milford Wednesday afternoon, according to state police.
Firefighters responded to the area of Boston Post Road, also known as Route 1, near exit 39 on I-95 South for an overturned tractor-trailer.
Responding crews said the truck was turned onto its side and the driver was able to self-extricate.
State police said the truck was hit from behind by a car that tried to pass another vehicle in the breakdown lane of I-95. The impact caused the driver of the truck to lose control and go over the guardrail.
The incident happened at approximately 3:30 p.m.
The truck's driver was taken to the hospital with minor injuries. The driver of the car that hit the truck was also treated at the hospital for minor injuries, state police said.
Fire crews at the scene put speedy dry on oil that was leaking from the tractor-trailer. Officials also blocked traffic for the towing company and truck repair to upright the truck.