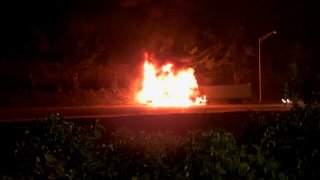 A crash involving two tractor-trailers that resulted in a fire caused delays on I-84 East in Vernon Thursday morning.
The crash happened around 3:15 a.m., state police said.
One of the trucks caught fire and was destroyed.
No one was hurt.
The eastbound lanes of I-84 were closed between Exits 66 and 67 for a couple of hours because of the incident.
One of the trucks was carrying frozen produce. The Department of Consumer Protection was called to the scene to inspect that cargo, state police said.