An Amtrak train collided with a service truck in Newington Friday and six people suffered minor injuries.
Officials from Amtrak said Amtrak Hartford Line Train 470, which was traveling from New Haven to Springfield, Massachusetts, collided with an Amtrak engineering vehicle on the tracks around 11:10 a.m.
Two Amtrak employees who were in the truck saw the train coming and were able to get out.
Sixty-four passengers were on the train when the collision happened in the area of Stamm Road and six sustained minor injuries. They are receiving medical assistance.
Alex Lance, an Amtrak passenger, heard a loud noise and say "chunks of truck flying by the window."
"I was really shaken up -- I'm not going to lie. It was really alarming and the entire process afterward was a little bit upsetting, but we had an amazing conductor who was just very cheerful and kept everybody calm," Lance said.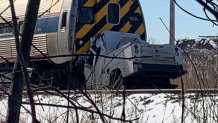 Officials said there is water on both sides of the tracks.
Another train was sent to the area for the passengers.
"That truck is just obliterated there. It's mangled. I was hoping nobody was in it and everyone was OK," said Al Wilson, a Newington resident.
An investigation is underway into what caused the crash and Amtrak said their police are cooperating with local authorities.
More information will be posted when it becomes available.