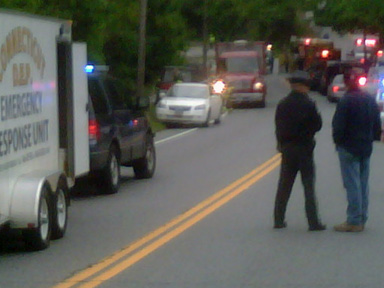 Route 12 will remain partially closed between Lisbon and Norwich until Saturday or later after a nine-car Providence and Worcester freight train derailed at Bundy Hill Road in Lisbon on Wednesday afternoon.
This is the second train derailment for Providence and Worcester Railroad in Connecticut in the past two months.
In March, four train cars carrying nearly 100,000 gallons of flammable ethanol derailed near Windham.
When asked about how two derailments happened in a short time, P&W had few answers.
Dave Rutkowski, the chief mechanic for P&W, was asked on Thursday whether people who live near train tracks used by his company's trains should be concerned.
"No comment," Rutkowski said.
P&W officials said the company does regular inspections on the railroad and the trains are safe.
The derailment on Wednesday happened around 1 p.m. "The train was moving fairly quickly," said Robert Franz.
Eight of the nine cars were carrying what officials called "product."
Three of the cars, holding liquid latex, went off the tracks and near the river. One of them was carrying 25,000 gallons of the liquid and there was a minor leak, according to police and the state Department of Environmental Protection. DEP was able to repair the leak, and officials do not believe there will be any impact on the nearby Quinebaug River or other natural resources.
The remaining six cars are on or near the track bed, but some did roll over.
Five of them were carrying plastic pellets. The sixth car had been carrying a pressurized liquid butane gas, which had already been off-loaded. It has residue of butane, which is reported to be flammable, police said.
The state Department of Transportation, Lisbon fire department, Connecticut Light & Power all responded to the scene. No injuries have been reported.
A spokesperson for P&W said the company hired contractors to lift the train cars, and get them back on the rails, but it may take some time. The cars carrying liquid latex are too heavy to move. Workers were in the process of off-loading some of the latex Thursday to make the rail cars light enough to lift.
Route 12 in Lisbon from Mell Road to Rimek Road will be closed to all traffic, including school buses, town officials said.
The cause of the accident is now under investigation but witnesses say speed could be a factor.
Road closures:
Route 12 is closed in both directions at Bundy Hill Road.
The northbound detour is Route 12 to Rimeck Road, to School House Road, to Route 169 North to Route 138 East, back to Route 12.
The Southbound Detour is Route 12 to Mell Road, to Route 169 South, to Route 97 South and back to Route 12 southbound.