A massive tree came crashing down in Hartford early Tuesday morning, damaging six cars and breaking the windows of four units in an apartment building in the process.
"It sounded like an airplane crash," Lewis Palmer, of Hartford, said.
The tree crushed the Acura that Palmer just bought.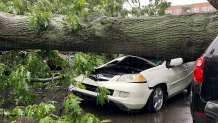 "It's crazy. It's crazy. I never thought in a million years a tree that size would do some destruction like that," Palmer said.
Firefighters responded to 30 Gillett St. just after 1:30 a.m. after the 70-foot tree came down. They said it damaged six vehicles in the parking lot and damaged windows in four units.
Rosa Hill said the whole building shook.
She said she tripped and fell on glass in the hallway and went to the hospital to be evaluated.
Pat Grant said he is an Uber driver, but would not be driving anywhere Tuesday.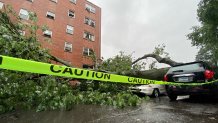 Panagiotis Pantermalis, who works in the maintenance department, said it appears that at least eight apartments were damaged. It's not clear how many families will have to be relocated.
"The building itself, we have damage to the windows, we have damage to the roof, we have damage to the bricks, to the asphalt, to the parking lot," he said.
A building maintenance employee said heavy rain might have oversaturated the ground and uprooted the tree.
Fire officials said no injuries were reported.