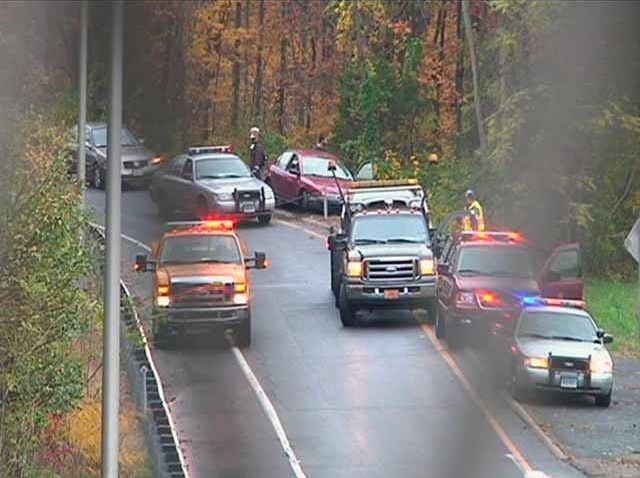 A state trooper was injured in a crash on Interstate 91 southbound in Rocky Hill on Wednesday morning and a Massachusetts woman has been cited for traveling too fast on wet roads.
The crash happened on the exit 23 onramp around 11:20 a.m. on Wednesday, state police said.
The trooper was responding to a crash when his car was struck by Melissa Sullivan, of Belchertown, Mass., police said.
Sullivan hit the brakes when she saw the flashing emergency lights, slid on the wet roadway and hit the trooper's bumper, state police said.
The trooper, Joseph Smigel, 51, complained of back and neck pain and was taken to a local hospital for evaluation.
Sullivan was cited for traveling too fast for conditions, police said.
Wednesday's crash comes two days after another trooper was injured when her cruiser was rear-ended in the median on I-91 in Meriden.
A third officer, Trooper Kenneth Hall, was killed Sept. 2 on I-91 in Enfield when police say a truck crashed into his cruiser. Connecticut State Police say a trooper has been injured in a highway collision, the second such incident on Interstate 91 this week.
Follow us on Twitter @NBCConnecticut, on Facebook, and sign up for breaking news SMS alerts on your phone by texting "CTBREAKING" to 622669.
Copyright AP - Associated Press