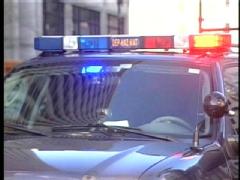 As Connecticut lawmakers tighten the budget belt, State Troopers are worried some proposed cuts could jeopardize public safety. Troopers oppose plans put forth by both Governor M. Jodi Rell and majority Democrats in the General Assembly, to remove them from nearly all of the state's weigh stations in a cost-saving maneuver.
"To diminish the state's ability to deter and conduct enforcement on commercial motor vehicles would be exactly the wrong thing to do," said Trooper Steven Rief, president of the state police union.
Rief said DMV inspectors, while armed with guns and the ability to detain suspects when awaiting trooper support, don't have authority to deal with criminal matters. Troopers, meanwhile, can "deal with everything that we come across," he said.