Tropical Storm Elsa is taking aim at Cuba before it moves toward the Florida Keys.
The storm has prompted Tropical Storm Watches and Warnings from Jamaica to the Florida Keys.
The remnants of Tropical Storm Elsa could impact Connecticut by Thursday and Friday. The latest track from the National Hurricane Center has placed Connecticut in the 'Cone of Uncertainty'.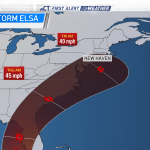 If the storm did track near Connecticut, the main concern would be heavy tropical downpours with some wind.
The latest models in our Spaghetti Plot show a number of tracks that would take the storm to Connecticut or south of Connecticut, which is a reason to keep a close eye on this system.
Stay with the NBC Connecticut First Alert Weather Team for continuous updates as the storm progresses.