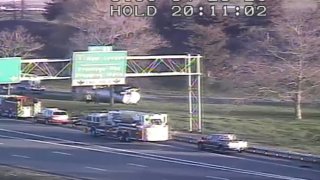 A tractor-trailer carrying manure overturned in New London and police said it is leaking and access to the Route 32 North connector is restricted.
Emergency crews were called to the Route 32 northbound on ramp to North Frontage Road around 5 a.m.
North Frontage Road is closed from Route 32.
According to police, the driver was transported to Lawrence + Memorial Hospital with what appears to be non-life threatening injuries.
Police urge drivers to take a different route.
The investigation is ongoing. Anyone with any information is urged to contact New London Police Department at (860) 447-5269 ext. 0.