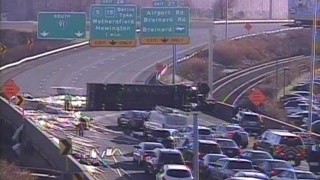 A tractor-trailer crash caused significant delays in the southbound lanes of Interstate 91 in Hartford on Tuesday afternoon.
The crash happened just before 2 p.m. between Exit 29A and Exit 27.
The driver lost control rounding a curve an overturned, spilling its load of lumber onto the highway, according to state police.
The driver suffered minor injuries, police said.