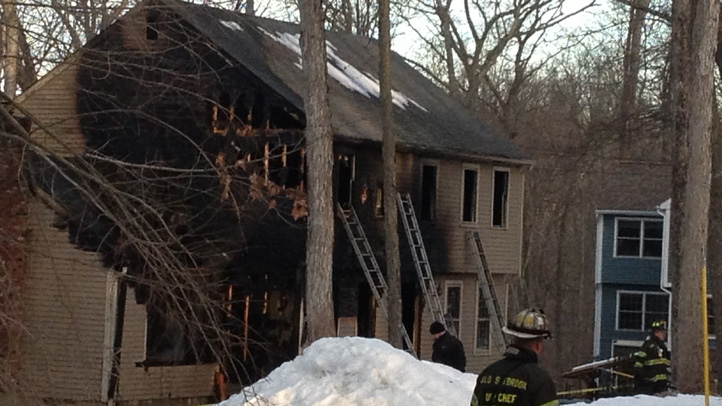 Old Saybrook Police have arrested a homeowner after responding to a suspicious fire that broke out inside 19 Beaver Dam Trail on Friday morning.
Glenn Alburtus, 60, his 55-year-old wife, Susan, a police officer and a firefighter were injured in the fire.
Police said on Friday morning that there is a criminal investigation into the blaze and have charged Glenn Alburtus.
Police responded to the house after receiving several 911 calls. When they arrived, they found a woman screaming for help and realized that there was fire, so they called the fire department.
Glenn Alburtus has been charged with second-degree threatening, first-degree reckless endangerment, first-degree unlawful restraint and disorderly conduct. Police said they expect to file additional charges.
He is in critical condition at the Bridgeport Hospital Burn Unit and is under police guard.
His wife, Susan Alburtus, 55, is in critical condition at Yale New Haven Hospital, according to police.
Investigators secured a search warrant and began going through the home looking for evidence late Friday afternoon.
The firefighter and police officer who were injured and transported to the hospital have since been released.
Peter Van Vliet, a neighbor, said they heard shouting around 5 a.m. and went outside and the flames were already high.
"My neighbor was coming out across the street and she was just saying call 911," Van Vliet said. "My neighbor and I just stood back because we thought, we were afraid, it was going to explode."
Neighbors described the couple who live in the house as nice people who keep to themselves.
"They're very nice. They seem like they're pleasant people. They wave when they went by," Van Vliet said.
Tony Lyons also said he heard shouting from the residence around 5:30 a.m., looked outside and house was fully engulfed.
"My wife and I heard a bunch of shouting from the house, like loud shouting," Lyons said. "It sounded like there was an argument going on or they were just yelling to each other to get out of the house. "
Lyons, who lives two houses away from the couple said he does not really know anything about the family.
"I think they were retired or they had grandkids over every once in a while. We just waved and that was about it," Lyons said.