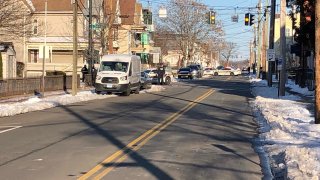 Two New Haven police cruisers collided while responding to a robbery in the Fair Haven neighborhood Saturday.
Police said the incident happened in the area of Lombard Street and Blatchley Avenue at approximately 2:55 p.m.
While officers were on their way to investigate the robbery, the cruisers collided, according to authorities.
Officials said two officers have minor injuries as a result of the crash. They're being treated at Yale New Haven Hospital.
It's unclear what specifically caused the accident.
Anyone with information is being asked to contact police at 203-946-6316. People can remain anonymous by calling 866-888-8477 or by texting NHPD plus your message to 247637.