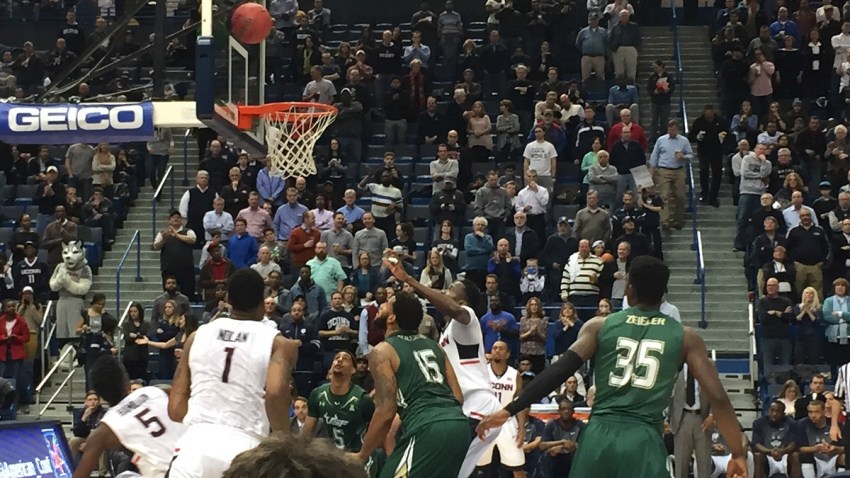 Daniel Hamilton scored 20 points and defending national champion UConn beat South Florida 69-43 in the first round of the American Athletic Conference tournament.
Hamilton, who picked up the conference's award as rookie of the year earlier Thursday, hit six of his eight shots, and was 4 of 5 from 3-point range.
Rodney Purvis added 13 points and Ryan Boatright had 12 for the Huskies (18-13), who need to win the conference championship to earn a return trip to the NCAA Tournament.
UConn led 29-14 at the half after holding USF scoreless for the game's first six minutes.
The Bulls shot just 24 percent from the floor for the half and 31 percent for the game.
Nehemias Morillo had 13 points and Troy Holston Jr. had 12 to lead USF, which finished 9-23 under first-year head coach Orlando Antigua.
The Bulls missed their first nine shots from the floor before a tip-in by Ruben Guerrero and it was 17-2 UConn more than 10 1/2 minutes into the game before Holston hit a 3-pointer.
A tick-tack-toe passing play from Boatright to Purvis to Hamilton to Amida Brimah led to dunk that made the score 25-5 UConn.
USF scored nine of the final 14 points of the half, but still trailed by 15.
UConn pushed the lead back to 20 in the second half and were ahead 44-25 before USF put together a 6-0 run. But Boatright and Hamilton hit back-to-back 3-pointers to end any threat.
Last year's national champs had lost two straight to end the regular season while USF had won two of their last five after an 11-game losing streak.
The Huskies improve to 15-2 all-time against USF. UConn beat the Bulls twice in January, by 14 points in Florida and by 13 in the rematch in the XL Center.
South Florida was playing without their two leading scorers. Corey Allen Jr. (15.4 points per game) was suspended last month for receiving impermissible benefits while at a California junior college. Chris Perry (10.8) has not played since Jan. 22 after being diagnosed with a heart issue. The Bulls had just nine scholarship players on the bench.
But UConn was also short-handed, playing without 6-foot-9 forward Kentan Facey, who suffered a concussion in practice on Tuesday. Facey had been averaging 4.5 points and 5.3 rebounds a game. Phil Nolan stepped up, grabbing seven boards for the Huskies. He had been averaging under two a game.
Reserve guard Sam Cassell Jr. missed his 13th consecutive game with a stress fracture in his right leg.
This was the sixth time that Boatright, Purvis and Hamilton scored 10 or more points in the same game. The Huskies are 6-0 in those games.
Copyright AP - Associated Press