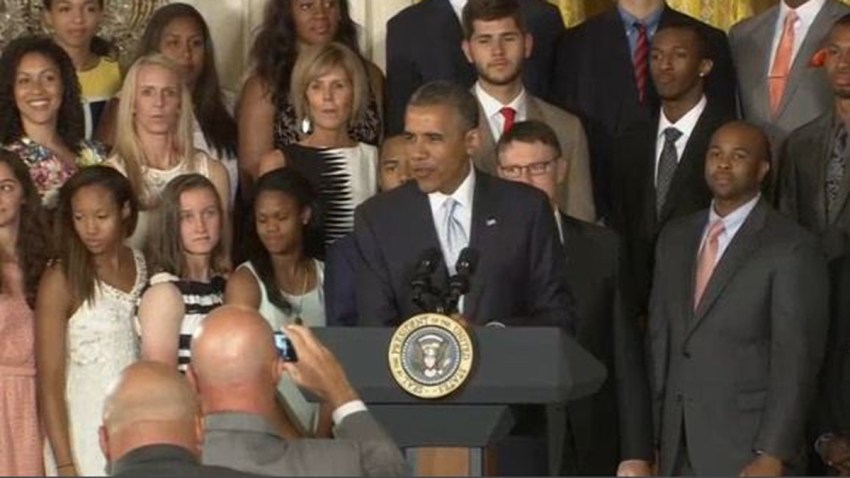 President Obama welcomed the men's and women's basketball teams to the White House on Monday to honor their 2014 NCAA championship seasons.

It is the second trip for the coach Kevin Ollie and the men's squad, which earned its fourth national title in April, and the second in three years. The last time Ollie made his way to the White House, back in 2011, he was an assistant on Jim Calhoun's staff. He's been the head coach for less than two years.

Geno Auriemma, meanwhile, is making his ninth visit -- that's what nine championships will do for you. Last year, following the team's eighth title, Obama promised center Stefanie Dolson he would challenge her in a dance-off should the Huskies repeat, though he added one caveat: "As long as it's not televised."

Luckily for the president, Dolson, who was drafted in the first round by the WNBA's Washington Mystics shortly after her college career ended, has no such plans to pursue the dance-off.

"I'm just planning to see what happens," Dolson, smiling, told the Hartford Courant's John Altavilla. "I'm not going to force another. The last thing I want to do is come across as being obnoxious. I don't want to do anything outrageous with President Obama around like last year. We'll see what happens, see what he remembers [from last year] and go from there."

Both Dolson and Bria Hartley, the former Huskies guard who now also plays for the Mystics, will be attendance Monday.