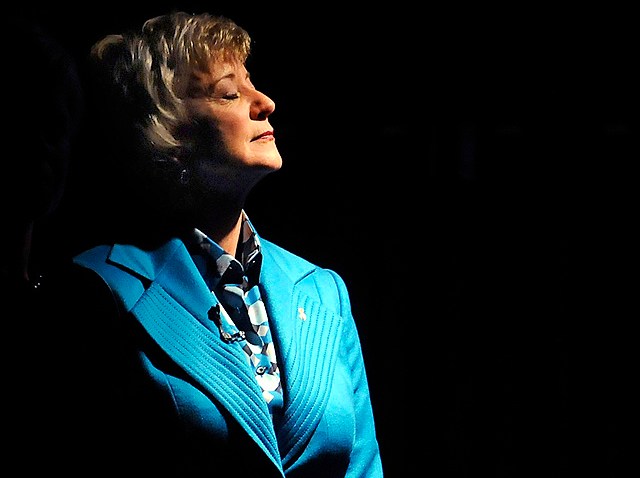 A protest on the UConn Storrs campus turned into a skirmish and campus police questioned at least two students involved.
Former WWE CEO Linda McMahon, the Republican candidate for Senate was visiting the Storrs campus on Monday, when several students from a campus domestic violence awareness group turned up a small rally.
Some students arrived carrying signs reading: "McMahon Profits from Violence Against Women" and "Can't Buy My Vote," The CT Mirror reports.
David Haseltine, 24, told the Associated Press that a female McMahon supporter tore down the sign he was holding that accused McMahon of profiting from violence against women.
Students and staff for McMahon said Haseltine shoved the supporter. He denied the claim.
McMahon cut short her visit and was escorted to her SUV by campaign staff amid a chorus of yelling by supporters and protesters.
"With the election tomorrow, supporters on both sides are eager to have their opinions heard. We are fortunate to live in a country that allows us to freely express our views, but regardless of whether we disagree, we will not be able to turn our country around and put people back to work unless the debate remains civil," Ed Patru, spokesman for McMahon said in a statement.
Patru said the woman who students said was shoved is fine and has declined to file charges.
"Linda asks those on both sides of the debate to make their opinions known at the ballot box rather than through physical means," Patru said.
UConn college Republicans tweeted out an apology.
"We apologize to Linda McMahon for the small group of rabid hecklers that attend our University," the organization Tweeted.
Lt. Hans Rhynhart of the UConn police said there will not likely be arrests.
Follow us on Twitter @NBCConnecticut, on Facebook, and sign up for breaking news SMS alerts on your phone by texting "CTBREAKING" to 622669.
Copyright AP - Associated Press