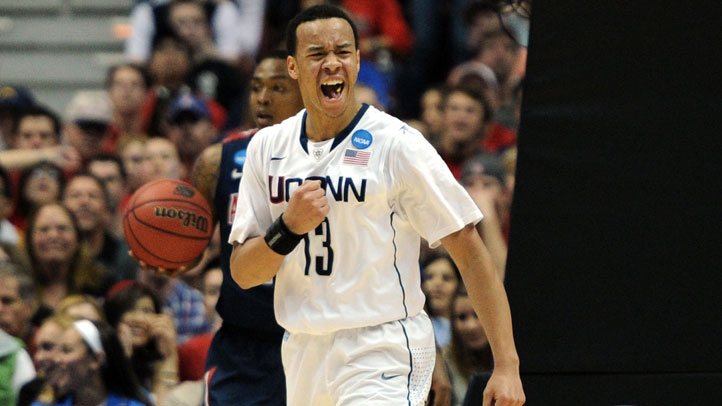 Shabazz Napier swished a 29-footer with 0.6 seconds left in overtime, and Jeremy Lamb scored a career-high 32 points to help Connecticut stun Villanova 73-70 Monday night.
Ty Johnson appeared to send the game to double OT on his tying layup for Villanova off a missed UConn free throw. But Napier, who questioned the heart of his teammates after a loss Saturday at Marquette, hit the pull-up 3 and got all net in the final ticks to keep the defending champion Huskies' NCAA tournament hopes alive.
The Huskies (17-10, 7-8 Big East) rallied from an 18-point deficit to win without coach Jim Calhoun on the bench. Calhoun should return from a back injury and be on the sidelines for Saturday's game against No. 2 Syracuse.
Lamb was 11 of 21 from the floor to rally UConn against the Wildcats (11-16, 4-11), who were led by Dominic Cheek with 23 points.
Copyright AP - Associated Press