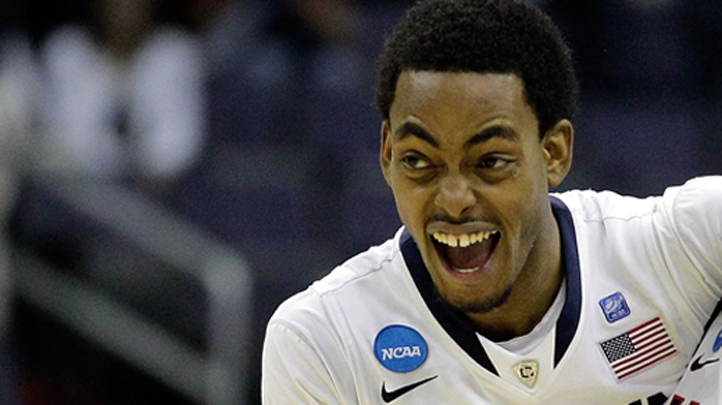 A UConn basketball player who was arrested on drug charges last month, will be transferring from the school.
Jamal Coombs-McDaniel, a sophomore, participated in the team's successful season and national title win.
"Jamal and I met recently and, although he loves the program, he would like more playing time," head coach Jim Calhoun said. "He and I both agree that he may have more opportunity for that playing time in another program."
Coombs-McDaniel, of Dorchester, Massachusetts and two other Boston men were found with 5.6 grams of marijuana, a marijuana grinder and a package of cigars used to smoke marijuana during Spring Weekend, UConn police told, the Mansfield-Storrs Patch reports.
UConn granted the player permission to speak to other schools, Calhoun said on Thursday afternoon.
"He was a very important part of our national championship this season and I know is capable of great success in the future. We wish Jamal the best of luck athletically and academically where ever he decides to continue his college career," Calhoun said.
Finals are currently being held at the university and Coombs-McDaniel is in the process of completing the spring academic semester at UConn.
He was due in court on Thursday, but his court date was postponed.

He competed in 75 games over the past two seasons for the Huskies, averaging 4.5 points per contest. In the 2010-11 campaign, he played in all 41 games and averaged 5.6 points, 6.9 per contest in Big East play.