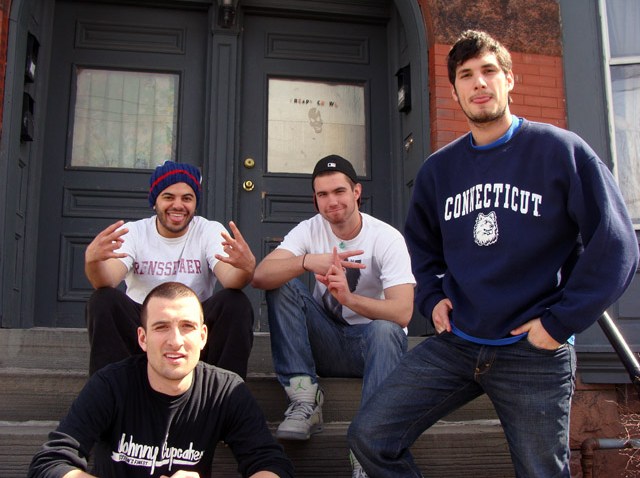 Weekends at college are synonymous with sleeping all day, partying all night and maybe getting some homework done, but only if there's time.
But for a certain group of students at the University of Connecticut, the weekend is also synonymous with playing a sold out concert at a legendary Connecticut venue.
Over the weekend, 1-2 Kidz took the stage at Toad's Place in New Haven. The rap group, comprised of five friends, Matt "Illy Puddy" Healy, Tommy "TommyGo" Gorecki, Matt "G-Money" Gaboury, Luis "Juberries" Lluberes and manager Justin Hannan, are astounded at their seemingly overnight success.
"Coming into this a month ago, we had no idea we'd be playing shows. U2 and Jay-Z have played at Toad's, so this is a really big deal for us," said Hannan.
1-2 Kidz first started when creator, Healy, began rapping in high school. Known as the "1-2 Kid," Healy combined forces with long-time friend, Lluberes, and the two were creating songs in a shed behind Healy's house in no time.
Healy, a.k.a Illy Puddy, continued his hobby of rapping when he came to UConn. Friends quickly began to take interest this past fall and Gorecki and Gaboury jumped on the 1-2 Kidz bandwagon.
"We started playing at our parties and friend's parties. It was a great confidence boost once people began to chant the words to our songs with us. Our friends support is what caused us to become more serious about our music," said Healy.
Only having about five songs recorded, 1-2 Kidz knew big moves had to be made to gain the success for which they yearned. The guys purchased a microphone along with some other recording equipment and quickly began making new music.
"We banged out a bunch of songs in just one night," said Gorecki.
Instead of spending their spring break boozin' on the beaches of Mexico, 1-2 Kidz spent their time recording the group's first mixtape in New York.
During this time, Hannan decided to submit their track "Stoolapalooza" to college Web site BarStoolSports.com.Hannan heard back from the site's creator immediately and "Stoolapalooza" was posted on the Web site, receiving 20,000 views in two days. 1-2 Kidz was then invited to join New England rapper Sam Adams on BarStoolSports.com's spring tour, Stoolapalooza.
With the completion of their first mixtape on March 25, 1-2 Kidz released "Fools Day" a mere week later on April 1.
1-2 Kidz posted the entire mixtape on their Facebook page and gained close to 2,000 fans in one week.
"I knew people were going to like it," said Healy.
In addition to the show at Toad's Place, 1-2 Kidz will also be performing at the Mullin's Center at the University of Massachusetts on April 30. Despite the new rockstar-status and success of "Fools Day" though, 1-2 Kidz are not letting their victory get to their heads.
"There are six stops on the tour. We're set to perform at two of them now, but can't do the others because of finals," said Hannan.
Perhaps the recently incarcerated Lil' Wayne can take a study tip from 1-2 Kidz.
Soon-to-be the new party anthem of UConn, 1-2 Kidz's "tribute to the ladies" is a huge hit on-campus already.
"I ain't got no affinity to the girls up at Trinity, but they ain't nothing like a UConn girl,
I get all up in that … when I'm up at UMass, but they ain't nothing like a UConn girl,
Eastern's fine if you don't want a dime, but they ain't nothing like a UConn girl,
Damn sure ain't nothing like a UConn girl," Boasts the lyrics of "UConn Girls."
"We're gonna have to switch those lyrics up when we perform at UMass though," said Healy.
Good choice, the women of UMass would probably not appreciate getting dissed on their own turf!
With the end of this semester right around the corner and summer rapidly approaching, 1-2 Kidz have big plans that definitely do not include relaxing. The group aspires to produce an "industry-quality" mixtape and play lots of shows, according to Hannan.
"1-2 Kidz started as 'dorm-room rap,' but now we're out of the dorms and are moving on to bigger and better things," said Healy.
You can hear 12th Avenue here.