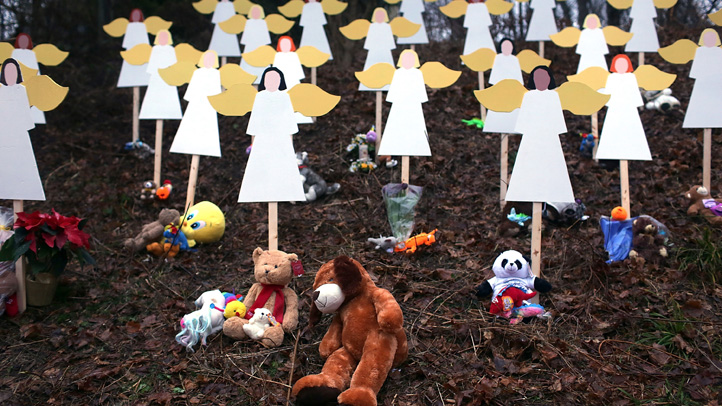 The memorial scholarship fund that UConn has created to help the students of Sandy Hook Elementary School who survived the tragedy has grown to in excess of $1 million over the last three months.
The Sandy Hook School Memorial Fund at the University of Connecticut will provide financial aid for any students who currently go to the school, as well as siblings of those killed and dependents of teachers and the other adults who lost their lives protecting those students. The scholarships will be available to those who are accepted to UConn when the time comes for them to apply.
Geno Auriemma and his wife made the first donation of $80,000 to start the fund and the more than 5,000 people from across the United States, Canada and Puerto Rico have made donations in the weeks since.
"Everyone's generosity is going to help these families move forward with one less thing to worry about. That's the blessing in this," said Cathy Ostar, director of school counseling at Newtown High School. She and other school administrators has been sharing information about the scholarship fund with students and their families.
Last week, Mark Shenkman, chairman of the UConn Foundation Board of Directors and a UConn alumnus, donated $25,000, putting the scholarship fund total at $1,010,000.
"Contributions to this fund are heartwarming evidence of people's determination to respond to tragedy with positive and meaningful action," UConn President Susan Herbst said. "We are proud to be able to assist and support those affected by the horrific event."
The Bowl Championship Series made a gift of $80,120,or $1 for every fan in attendance at the Jan. 7 BCS National Championship game.
The Hartford Financial Services Group contributed $100,000, while UnitedHealthcare donated $10,000.
UConn alumnus Denis McCarthy contributed $25,000 while Margaret Keane, parent of a UConn alumnus, donated a $25,000 Chairman's award received through her employment at GE.
All of the money donated will be spent directly on the scholarships for the children. Any funds that remain once the needs of the group have been met, they will be used to benefit any future students from Newtown who attend UConn, according to the university.
Funds will be immediately available for siblings and dependents of those who died, to provide them with scholarship assistance as needed, according to UConn.
The Connecticut Education Association is supporting the Fund with a fundraising drive expected to raise an additional $1 million.
For more information on how to donate, visit the University of Connecticut website or the UConn Foundation website.