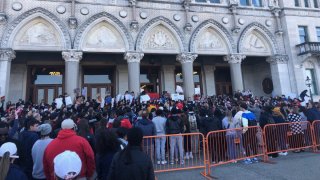 Protesting, UConn students marched at the Capitol Wednesday.
Hundreds of students, representing every UConn campus, came to Hartford to speak out against the governor's proposed budget.
The school says it creates a massive shortfall and could lead to a tuition hike.
"I just honestly want to make a difference, make a change and speak for the school," student Daniah Sawyer said.
The university says the proposed budget, if passed, would leave the school with a nearly $160 million dollar shortfall, and could lead to a $3,000 tuition increase.
Student Body President Mason Holland finds this troubling.
"We don't want it to be a place that is inaccessible, or a place that people can only get into if they were afforded opportunities as a result of where they were born," Holland said.
Reacting, Governor Ned Lamont said students may misunderstand the situation.
"I think they got some miss information. I think they were told we were cutting funding for the University of Connecticut," Lamont said.
Instead, the governor says that is not the case, and they are actually increasing funding.
A spokesperson for the governor says, "Governor Lamont is proposing to increase the state block grant for UConn by $23.7 million over the biennium as compared to the last biennial budget."
Lamont says these fall in line with previous budgets.
"We've increased funding for UConn every year since I've been in office. It's up about 30% baseline since 2019," Lamont said.
Still, UConn says this budget proposed funding is not enough, and students are concerned about a potential tuition increase.
"I don't know if my family can continue paying for this if the tuition increases and I really love the school," student Santina Jacques said.
The issue partly revolves around federal COVID relief funds that are no longer available.
In a statement, the governor said in part:
"The UConn administration's insistence that the state continue covering this federal aid now that it is no longer available is not a fiscally sustainable solution."
When the proposed budget was released last week, UConn President Radenka Maric suggested the university could stop playing basketball games at the XL Center.
When asked about that today, the governor said he was confident that they will not pull out.