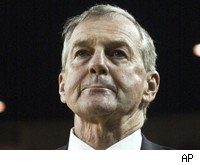 Later this morning, we will know the details of head men's basketball coach Jim Calhoun's contract with UConn.
The University of Connecticut Division Of Athletics will hold a news conference at 10:45 a.m. about Jim Calhoun's contract.
Calhoun has been with UConn for 24 seasons.
According to Calhoun's current contract, he is paid $1.6 million per season, the Waterbury Republican-American reports. It expires in June.