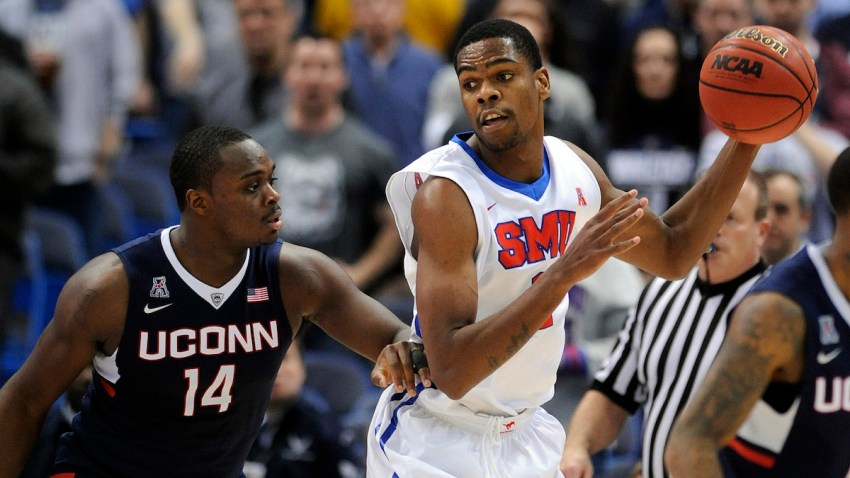 A berth into the NCAA tournament was at stake when the UConn men's basketball team stepped onto the court against SMU on Selection Sunday in the American Athletic Conference championship, but the Huskies lost the game 62-54 despite coming in reach of overturning the score.
SMU took an early lead, but UConn's Rodney Purvis scored two three pointers to cut SMU's lead to 27-18 with about 2:15 left in the first half before a very energetic crowd of fans at the XL Center. The Huskies were trailing SMU 33-19 at halftime. UConn fought to close the lead and came close in the end, but SMU held the Huskies off for the win.
UConn (20-13) needed to win the AAC final to make the tournament and earn a chance to defend their national title.
"It's a scenario where we lose and we don't get a bid," coach Kevin Ollie said before the game. "We feel not the pressure, but we feel the opportunity."
The loss comes after a nail-biting game the night before when UConn used a 14-1 run over the last 3 ½ minutes to win the game against Tulsa Saturday night, advancing to the AAC final. Ryan Boatright hit a 3-pointer with 1:44 remaining to tie the game at 41 and Rodney Purvis gave the Huskies the lead for good with 46 seconds left on a jumper from the left baseline on Saturday.
UConn was in a similar position back in 2011 when the Huskies needed to win their conference tournament simply to make the NCAAs. They won five straight to do that, then tacked on six more once the real tournament began to take the national title.
Copyright AP - Associated Press