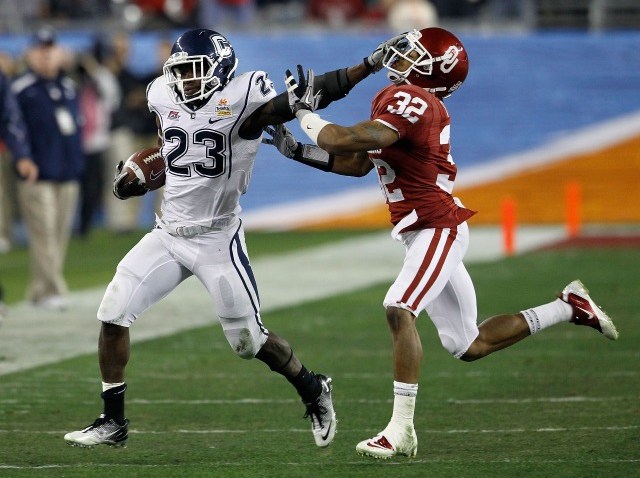 UConn's Jordan Todman has played his last game for the Huskies. The junior tailback, who was named a second team All-American, is leaving college a year early to enter the NFL draft. But Todman's journey to Storrs and national recognition has been an unusual one.
At the age of 13, he was running with a rough crowd and made the difficult decision to leave his own family and move in with a friend's family. That decision proved to be a life changer, according to ESPN.

Todman was In middle school in New Bedford, Massachusetts when he made the decision. Todman's good friend and Pop Warner teammate, Justin Cruz, lived with his parents, Steve and Dana Cruz in nearby North Dartmouth.
The idea came up to move in with the Cruzes, but to play sports at a new school, Todman needed to establish residency. So the Cruzes became his legal guardians, ESPN reports.

"At first, our goal was just to go to school, graduate high school and be successful in life," Todman told ESPN.

When Todman became the second-leading rusher in Massachusetts' history, his options opened up.
He wasn't widely recruited a runningback, but UConn Coach Randy Edsall wanted him to carry the football, so he came to Storrs.

And the rest is history. Atfer UConn's loss to Oklahoma in the Fiesta Bowl New Year's Night, Todman announced he plans to forego his senior year in Storrs and enter the NFL draft..

"That's been a dream of mine since I was 8 years old," he said.