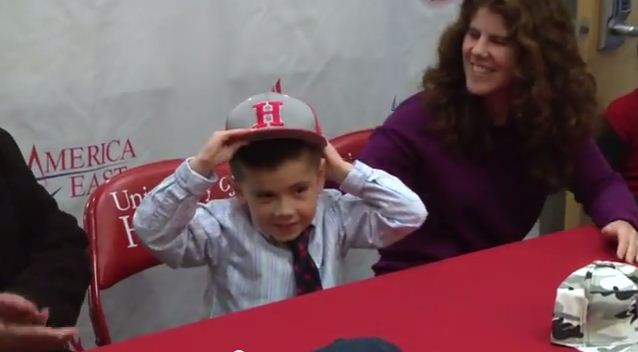 A 7-year-old Windsor boy's dream came true this weekend when he signed a special kind of letter of intent with the Hartford Hawks baseball team.
Thomas Hastings has muscular dystrophy and he has a deep bond with the University of Hartford baseball team, thanks to Team IMPACT, a non-profit that brought the little baseball fan and the college team together.
Thomas was all smiles as he took his seat at the table this weekend and the baseball team filed in to the room for his big signing day.
Thomas proudly placed the Hartford Hawks hat on his head.
"It is a pleasure for us to issue a University of Hartford letter of intent. This letter indicates your intent to be a devoted, passionate and proud participant in the baseball program here," Coach Justin Blood said.
Last month, the team made Thomas an honorary manager in a touching ceremony.
"In signing this document, you can be assured that our program will make the following promise to you and your family: our program vows to be active and fully invested friends, brothers and teammates in your life. We're proud and excited to welcome you into our family," Blood said.
See the video of from last month here.