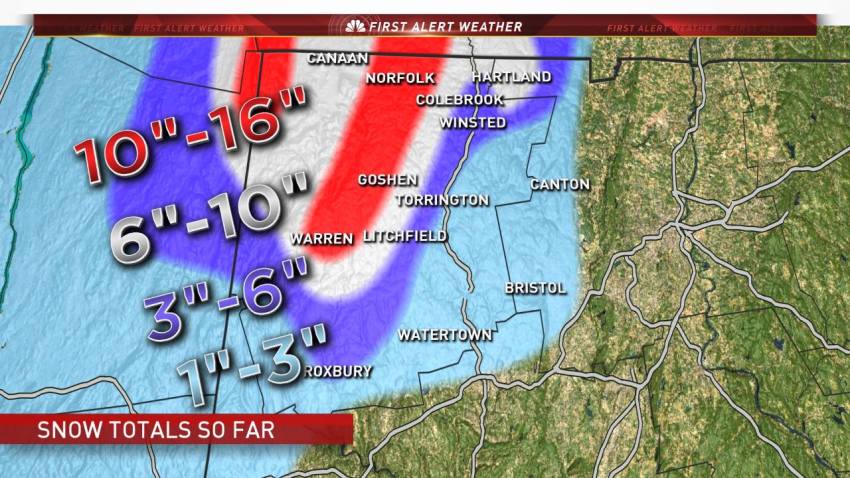 To say this storm was a surprise for a few towns in Litchfield County would be an understatement. The hill towns got clobbered! This was an unusual storm in many respects and turned out to be a shockingly prolific snow producer.
Large snowfall differences between the valleys andhills aren't unusual. How many storms produce a foot of snow in Norfolk and barely anything in Winsted? A lot! What was different was the mechanism that produced this snow.
Besides the few inches of snow that fell Sunday morning this storm was almost exclusively due to "upslope" - or snow that developed due to air being forced up and over the hills in Litchfield County. This phenomenon is why the ski areas in Vermont get so much snow but rarely produces big totals here. The reason is that the hills in Connecticut just aren't that high - about 1,500 feet from Norfolk to Warren compared to 4,000 feet in northern Vermont!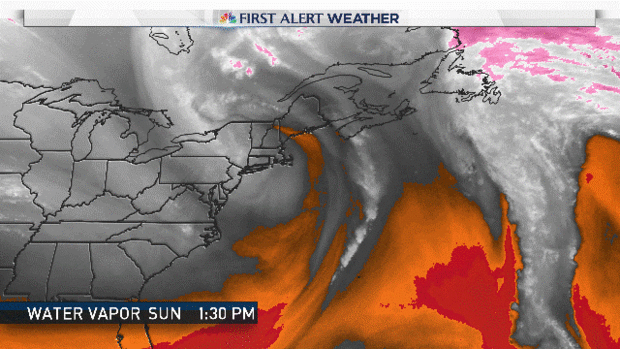 What made this storm so prolific when most setups like this aren't? I believe there are several reasons. One, is that this upper level low had an unusual moisture connection from the subtropics. On the water vapor loop you can see moisture streaming north from Bermuda into southeast Canada and back to the south into southern New England. The more moisture in the lowest levels of the atmosphere the less it needs to be lifted for clouds and precipitation to form.
The second reason is likely the unusually warm Great Lakes. Northwesterly winds blowing from Lake Ontario were able to effectively "pick up" more moisture than they ordinarily would be able to.
The third reason is that the upper level low stalled just to our north - producing a persistent band of snow for nearly an entire day. That persistent flow kept the snow machine cranking.
In retrospect I should have picked up on some of these signals. Our most bullish model (the high res NAM) started showing 6"-8" of snow for the higher elevations in Litchfield County by Friday night but more often than not the high resolution NAM is quite overdone with these setup.
After talking with Bob Maxon in the weather office this morning - neither of us can another upslope event quite like this!
What was forecast well was the snow showers across the valley and shoreline locations this morning. New London picked up a half inch and Southington picked up a little over an inch. As early of Thursday I was talking about scattered snow showers Sunday night and Monday morning that could put down a quick coating of snow on the roads. That happened right on schedule and unfortunately resulted in a number of accidents.
Snow totals so far...
Goshen - 16.0"
Norfolk - 14.2" (official)
Warren - 12.3"
Colebrook - 9.0"
Colebrook - 5.7"
New Hartford - 1.7"
Bristol - 1.3"
Prospect - 1.2"
Southington - 1.0"
New London - 0.5"
Collinsville - 0.5"
Staffordville - 0.5" (official)
Mystic - 0.4"
No. Granby - 0.1"
Moosup - 0.1"
West Hartford - Trace
Windsor Locks - Trace (official)
Bridgeport - Trace (official)