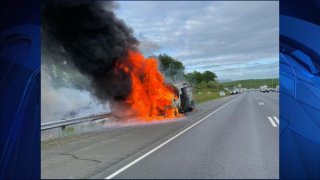 A work van that went up in flames on I-84 West in Cheshire on Thursday spread and started a brush fire, officials said.
According to the Cheshire Volunteer Fire Department, emergency crews responded to I-84 West around exit 26 . Officials said they saw a work van in flames which had also started a brush fire.
The fire was later extinguished, authorities said.
No injuries were reported.