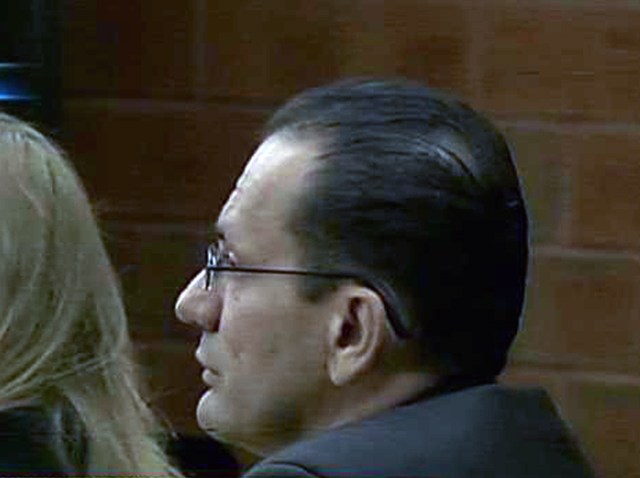 It appears that Eddie Perez plans to step down from office just hours after being convicted on corruption charges, including taking a bribe and attempted extortion.
"I have decided that it is not in the best interests of the City and my family for me to continue my duties as Mayor during the appeal of my case. I will formally notify the City Council shortly of my decision to relinquish my duties," Perez said in a statement issued on Friday.
The a one-time gang leader who escaped an impoverished childhood to become Hartford's first Latino mayor, was convicted on Friday.
"Today's verdict was a tremendous disappointment to me and my family. Anyone who has followed my forty year career of public service knows that I have never placed personal financial gain before the needs of my community or my city. I have been overwhelmed by the outpouring of support I have received from the residents of the City of Hartford during this difficult period. I am truly sorry for any actions that may have harmed the image and reputation of our community," Perez said.
His statement comes soon after a city council meeting at 3 p.m. on Friday to discuss what to do in light of the convictions.
"It has been a great honor and privilege to serve the people of this great city as Mayor. Since my election in 2001, we have rebuilt and reinvigorated our schools, significantly reduced crime, created hundreds of new homeownership opportunities, reshaped the face of public housing, revitalized downtown, improved the quality of life in our neighborhoods and made city government more responsive and efficient. As a community, our legacy of progress is tangible, concrete and visible in every city neighborhood. I am proud of what we have accomplished together and I urge all residents of our City to keep that progress moving forward," he said in a statement.
Perez, who had insisted on his innocence and vowed to clear his name, faces up to 60 years in prison, with each of the five counts carrying a minimum of one year in jail. He plans to appeal.
"I intend to appeal today's verdict. I believe that under further review by the courts, today's decision will be overturned," Perez said.
The six-person Hartford Superior Court jury acquitted him of one count of tampering with evidence. Sentencing is scheduled for Sept. 10.
The jury delivered the verdicts after the six-week trial and deliberated Wednesday afternoon, all of Thursday and Friday morning.
Perez was convicted of receiving a bribe, attempted first-degree larceny by extortion, accessory to evidence tampering and two conspiracy counts -- all felonies.
Perez's wife, Maria, collapsed and cried after the verdicts were announced, while Perez looked at his lawyer with no visible emotion.
"I'm extremely disappointed," Perez said as he walked away from the courthouse. "I'm maintaining my innocence and I plan to appeal."
The trial focused on allegations that Perez accepted home improvements from a city contractor in return for keeping him on a lucrative $2.4 million construction project, and tried to extort a developer into paying $100,000 to a political ally.
"This is not a good day for the city," Hartford City Councilor Ken Kennedy said, "but this is not reflective of the leaders of our community."
"This is a sad and extremely difficult day for Hartford, Mayor Perez's family and all who care about our capital city," Gov. M. Jodi Rell said in a statement released before Perez made his statement about relinquishing his duties. "Mayor Perez must now make some very difficult decisions. I am sure he will act in the best interests of the city and its people."
"The city of Hartford is a very good city. There are an awful lot of very good people in it. There's obviously a lot of work that needs to be done in the city," Kevin Kane, chief state's attorney, said. "It's a wonderful city and hopefully they'll go forward here in a positive way."
State prosecutor Michael Gailor said he was thankful that the jury convicted the mayor.
"We never thought we had this case in the bag," Gailor said.
Perez was arrested in January 2009 on charges he received the bribe from a contractor and friend, Carlos Costa, by paying only $20,000 for $40,000 worth of renovations, and only after he was questioned by a grand jury about the home improvements.
Costa told authorities he didn't expect to get paid for the home improvements because that was the "cost of me doing business with the city," according to an arrest warrant affidavit. He was also arrested, and his case remains pending in Hartford Superior Court.
Perez repeatedly intervened in matters to help Costa, such as pressing city workers to pay Costa's bills faster than other municipal contractors, authorities said.
Perez's attorney, Hubert Santos, had said that pushing the city to pay legitimate bills is not a crime. He said Perez always planned to pay for the home renovations but was distracted when his wife collapsed in 2005 and underwent months of treatment for brain aneurysms.
Perez, a native of Puerto Rico who moved to Hartford at age 12, captured the mayor's seat with more than 70 percent of the vote in his first two elections. But he won with only 48 percent of the vote in a six-way race in 2007 after details about the investigation began to emerge.
Copyright AP - Associated Press