The warm weather continues with temperatures in the upper 80s to low 90s throughout the state. The warmer temperatures will continue into the first half of the weekend.
We're forecasting temperatures to reach the low 90s in the Hartford area today. That will bring it to day four of the heat wave. A heat wave is when there are three or more consecutive days with temperatures at or above 90 degrees.
Saturday's weather features mostly cloudy skies. Temperatures will be warm with a light wind out of the northwest. We're forecasting high temperatures in the middle to upper 80s statewide.
The chance for rain showers increase as we head into Sunday and especially by Sunday evening.
A low pressure system will track to the south of Connecticut Sunday afternoon. This could usher in some scattered rain shower or an isolated thunderstorm Sunday afternoon into Sunday evening.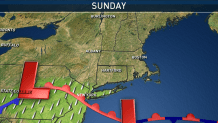 Rain and thunderstorms become more widespread as we head into Monday.