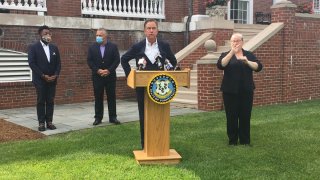 Governor Ned Lamont laid out his priorities Tuesday afternoon for the upcoming special session of the Connecticut General Assembly.
The legislature is set to meet in a special session this month to debate police accountability and absentee ballots. Lawmakers are working to navigate a session in the middle of the coronavirus pandemic.
The governor said the special session will be focused on four specific bills:
Absentee ballots for the November 2020 General Election
Police accountability
Tele-health, focused on insurance coverage
Capping the costs on insulin
Lamont said he has discussed and agreed to these bills with the leaders of the legislature.
The governor said he hopes to issue the call for the special session by Friday so the legislature can begin meeting by early next week.