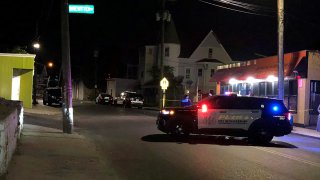 Police have arrested a man who is accused of fatally shooting another man outside Bertie's West Indian Restaurant in Waterbury last week.
Joseph Whitaker, 32, of Waterbury, is accused of shooting 32-year-old Lechard Santos, of Waterbury, early on the morning of Thursday, Aug. 18.
Police responded to the restaurant at 12:47 a.m. to investigate reports of gunshots and found Santos in the parking lot.
He was transported to Saint Mary's Hospital, where he was pronounced dead at 1:26 a.m., police said.
Whitaker turned himself in to police on Tuesday and has been charged with murder, criminal possession of a firearm, criminal use of a weapon, illegal discharge of a firearm and reckless endangerment in the first degree, according to police.
He was held on a $2 million bond.