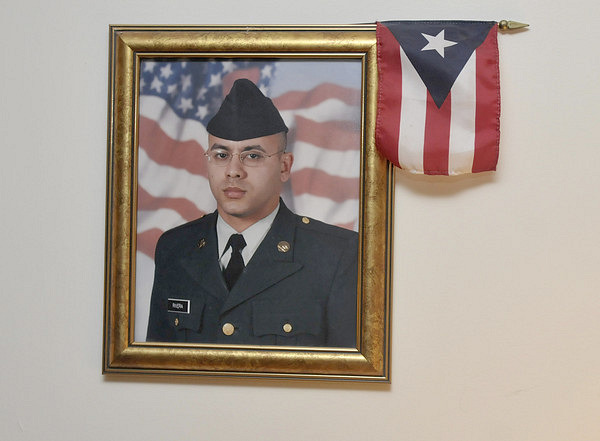 A Waterford soldier has died from injuries he suffered last week in Afghanistan.
Staff Sgt. Edwin Rivera, 28, died on Tuesday night at the National Naval Medical Center in Bethesda, Maryland.
He would wounded by indirect fire when his unit was attacked on May 20 in Laghman Province, Afghanistan.
Rivera was serving in the 1st Battalion, 102nd Infantry Regiment, one of two Connecticut National Guard units deployed to Afghanistan and Iraq late last year.
"This is a heartbreaking loss for Staff Sergeant Rivera's family, as it is for all of the people of our state. This loss of 'one of our own' – a National Guardsman, a citizen-soldier – adds even greater poignancy to Memorial Day observations this weekend," Rell said.
Rivera was a married father of two and worked as a security guard at the Millstone power plant.
"We stand ready to honor him," said Waterford First Selectman Dan Steward. How, he said, is up to the soldier's family. "We can put up pictures. We can put up remembrances, but it's up to the family. We don't want to overstep their boundaries."
His death is another in a series of tragic losses for the Rivera family. The day after he was shot, his sister gave birth to identical twins but they never made it. One of the newborns died that day, her sibling died the next.
Rivera's death comes just before Memorial Day, a national holiday to honor those who made the ultimate sacrifice.
"As we pause over the coming days to remember, honor, encourage and celebrate the contributions and sacrifices of men and women who have served our nation in uniform, I ask that every Connecticut citizen keep Staff Sergeant Rivera, the Rivera family and their friends in their thoughts and prayers," Gov. M. Jodi Rell said. "Moreover, I ask that all residents reflect on the freedoms they enjoy, remember the debt of honor we owe to those who have paid for those freedoms with their lives, and keep every member of our Armed Forces close to their hearts as well."Flags will remain at half-staff until sundown on the day of Staff Sergeant Rivera's interment. Funeral details are pending.
Rell ordered U.S. and state flags to be flown at half-staff in memory of Connecticut Army National Guard.