Wells Fargo is bringing its mobile food bank to the New Haven Green on Thursday, Nov. 30 as the Elm City kicks off its winter festivities with the annual holiday tree lighting.
These mobile food banks travel the country to help raise awareness of the millions of Americans facing hunger or food insecurity.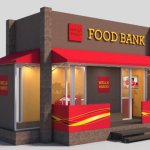 According to a report by CNBC, more than 42 million people suffer from hunger in the United States with nearly 1 in 7 Americans going to bed hungry each night.
As part of the experience at the mobile food bank, consumers can donate non-perishable food items and learn more about where their donations go. If you are in need of food assistance, the mobile food bank will help provide information on resources.
Donations here in Connecticut will benefit the CT Food Bank.
If you are planning on coming to the New Haven holiday tree lighting celebration on Nov. 30, please consider bringing a non-perishable food item to donate.
[NATL] NBC's 2017 Holiday Line-Up