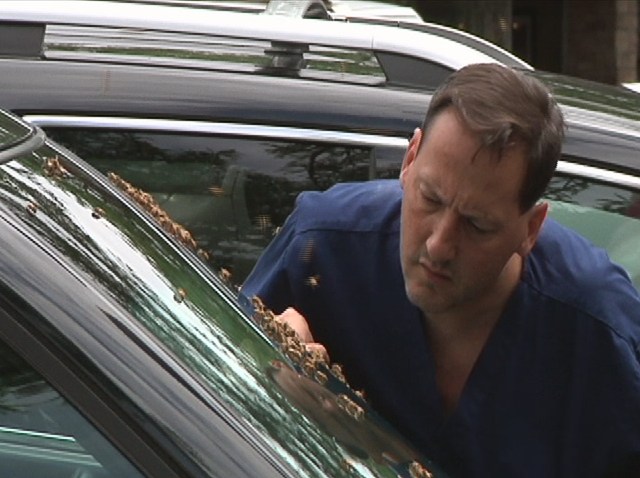 West Hartford Center was buzzing with activity on Thursday afternoon when a swarm of honeybees turned an Acura SUV into their temporary home.
As West Hartford was buzzing with its own lunchtime activity, bees covered the windshield and part of the roof rack of a car parked outside McLadden's Pub on LaSalle Road.
Soon, a man in scrubs arrived to save the day.
Dr. Kevin Krebsbach, an ear, nose and throat doctor from West Hartford, is also a beekeeper from Westmoor Park, in West Hartford.
He thinks the buzzing brood had left one hive and was in transit when they took a break on the SUV in busy town center.
The pit stop is not unusual. When the bees leave one hive, the scouts go scout out, another hive and the queen and the rest of the swarm wait until they learn the location of their new home.
But the home is not usually a high-end vehicle in a shopping district.
Krebsbach saved the day with a box that looks any ordinary one you find next to the office copier.
He placed it on top of the car and bees rushed in as if they were being vacuumed. The allure was likely the queen bee because of the way the workers rushed in.
"I hopefully got the queen," Krebsbach said.
He plans to unite them with his bees in the hopes they form a new hive.