About 50 percent of the state is still under a "severe drought" but it sure seems like our fortunes are changing. Windsor Locks managed an "above normal" March with 3.93" of precipitation while I managed 4.95" in West Hartford! This week, like the last several, also looks awfully stormy.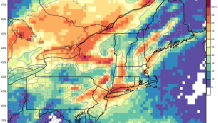 The European model shows good odds (>50 percent) of more than 2" of rain for southern and western Connecticut over the next 7 days. With snow melt up north along with locally heavy rain we may see a period of minor flooding on the Connecticut River. You can see impressive rises possible based on rainfall and snow melt from the GFS ensembles.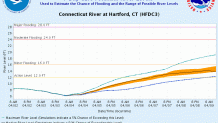 While it will take time to completely eliminate the drought we're moving in the right direction. If we can string together 2 more months of above normal precipitation we may finally be able to put this drought in the rear view mirror.