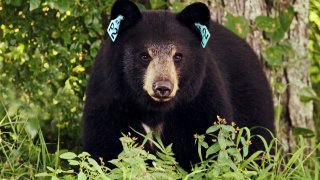 The Connecticut bear population will soon emerge from winter denning. While people love taking photos and videos of bears in their backyard, there have been several bear-related issues and state wildlife officials recommend some precautions as we begin to see more bears.
Bears Sightings in Connecticut
Bears have been spotted in every town in Connecticut at some point, according to the state Department of Energy and Environmental Protection.
In 2022, bear sightings were reported in 158 of the state's 169 cities and towns. You can see a map of bear sightings online here.
Do Black Bears Hibernate?
DEEP said that black bears are not true hibernators, but their body temperature goes down and their heart rate slows during "winter denning," which can happen in a variety of places, including under fallen trees, in brush piles or under decks, porches or sheds.
In Connecticut, most bears den from late November through mid-March, but females might remain in a den for longer than males, according to DEEP.
Denning bears do not eat, drink, urinate or defecate and DEEP said bears could wake up if they are disturbed during this time and they can remain active at times in winter, especially if there is a lack of snow cover and mild temperatures.
What Is the Difference Between Denning and Hibernation?
While some animals go into deep hibernation, the body temperature of bears remains higher so they can react quicker to danger, according to the National Park Service. Learn more here.
Conflicts With Bears in Connecticut
The state tracks issues with bears and the state Department of Energy and Environmental Protection said there have been some bear attacks on people, pets and livestock and they have also gone after beehives.
And, they have also gotten into houses and cars.
While most bear issues involve the animals getting into trash or birdfeeders, DEEP said there are thousands of reports of conflicts with people each year and it also follows a long-term increasing trend.
The state bear population is estimated at 1,000 to 1,200 and DEEP reports the average number of conflicts in Connecticut is 870.
In 2022, there were two bear attacks on humans, according to DEEP.
One of the attacks was in October, when a bear attacked a 10-year-old boy in Morris. The boy went to the hospital and officials said his injuries were not life-threatening. The bear was euthanized.
Bears have entered homes in 22 cities and towns and the number of bears getting into residences reached a record in 2022, according to DEEP.
DEEP said there were 67 reports of bears getting into houses, likely by following the smell of food, and then pushing through screen doors or getting in through windows.
There were also dozens of attempts by bears to get into homes.
The help curb the number of bear incidents, some cities and towns have ordinances that prohibit intentionally feeding bears, and that includes putting bird feeders out during the warmer parts of the year.
DEEP said ordinances have been passed in Barkhamsted, Colebrook, East Granby, Farmington, Granby, Hartland, Manchester, Salisbury and Simsbury.
Living With Bears in Connecticut
DEEP has some recommendations about living among bears.
Manage your garbage and other things that could attract bears
Keep barbecue grills clean
Avoid leaving pet food outside
Remove all traces of bird food from late March through November
If you see a bear in your neighborhood, leave it alone, give it an escape route, keep dogs leashed and don't get close in an attempt to get a better look or take a photo
Scare away bears that are around your home or looking for food. Work toward preventing troubling bear behavior before it starts.
DEEP puts two tags on a bear when the agency handles them and said a tag doesn't mean a problem bear. The tags help biologists track bear movements. A bear with a collar will also have ear tags. 
Ear tag color indicates the year the bear was tagged and each colored tag has a three-digit number code. DEEP said the first two numbers indicate the sequence in which it was caught and the last digit indicates the yeart.
Ear Tags Placed on Black Bears in Connecticut by Year and Color
2022 - Red
2021 - Pink
2020 - Blue
2019 - Green
2018 - Orange
2017 - White
2016 - Yellow
2015 - Red
2014 - Red
2013 - Pink
2012 - Blue
2011 - Green
2010 - Orange
2009 - White
2008 - Yellow
2007 - Red
2006 - Pink
2005 - Blue
2004 - Green
2003 - White
2002 - Yellow and orange
How to Report a Bear Sighting in Connecticut
You can report a bear through the DEEP website. Learn more here.