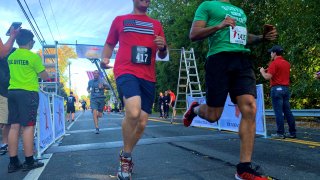 EAST HARTFORD⁠— For many, it's a way of healing. For other's, it's not that simple. Trish Bunchanan knows that better than anyone.
After losing her husband Officer Paul Bunchanan to suicide in 2013, she organized the "Believe 208: Run for the Brave and Finest" race to honor his legacy. Six years later, she and hundreds of others across Connecticut are making a difference in the lives of police officers, firefighters, paramedics and more.
The goal, Bunchanan said, is to raise awareness about the everyday challenges first responders face and provide resources to those struggling.
The 5K, now six years in the making, drew hundreds from across the state on Sept. 29, including some from the East Hartford Police Department.
"Paul Bunchanan was an excellent human being as an officer, and as a person and as a father, Sargent Steven Camp, who worked with Bunchanan, said. "To see someone go through what he went through and realizing the stress of the job, it's just a very important thing to do."
The stress of being a first responder, according to the Center for Disease Control (CDC), is considered to be an occupation with one of the highest suicide rates. And though suicide rates in Connecticut are some of the lowest in the country, they're on the rise, a 2016 CDC report found.
The states suicide rate rose nearly 20 percent between 1999 and 2016, the report found, with first responders at a ten times greater risk than compared to the rest of the United States population. Sargent Camp said that's why events like the "Believe 208" race are so important.
"It's an opportunity for others to understand and hear some of the reasons behind what's causing this," Camp said. "Hopefully it will help others in the future."
For participants like Samantha Gower, the race was about more than preventing suicide— it was about educating the public, too.
"I think [suicide among first responders] is just a huge problem that doesn't get much attention," Gower said. "These people respond everyday to everybody's worst days."
Alongside supplying resources, "Believe 208" works to provide education and training to first responders and their families.
Anyone interested in learning more about "Believe 208" or how to help, visit https://www.easthartfordct.gov/home/news/believe-208-run-for-the-brave-and-finest-5k-1.


If you or someone you know is in crisis, you can call 211 or the 24/7 National Suicide Prevention line at 1-800-273-8255.