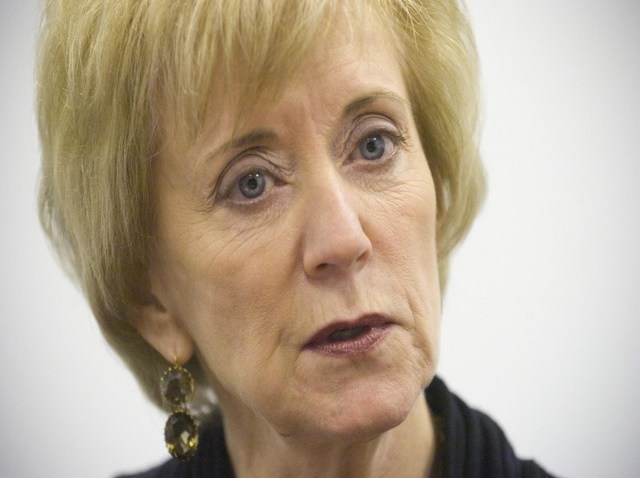 Hours after the widow of professional wrestler Owen Hart filed suit against U.S. Senate candidate Linda McMahon, her husband and their company, World Wrestling Entertainment, the WWE has blasted back, calling the suit a "political stunt."
Martha Hart filed a suit on Tuesday morning in Connecticut accusing the WWE and the McMahons of using her late husband, Owen Hart's, name and likeness without the right to do so in several commercial videos and other materials.
Martha Hart said she learned three months ago that the McMahons have for years used the image of her late husband in at least 37 videos and other materials without her knowledge and permission, and despite her objections to his likeness being associated with the pro-wrestling company.
"They'd have to be living under a rock if they didn't get that I don't want any association with them whatsoever or Owen to be associated with them whatsoever," said Martha Hart, who lives in Calgary, Alberta, with the couple's two children, now 18 and 14.
Owen Hart fell to his death on May 23, 1999 while filming a wrestling pay-per-view special in Kansas City before a crowd of 16,500. He making an aerial descent into the ring, fell after the device that connected his body harness to the rigging malfunctioned, Jerry McDevitt, an attorney for the WWE, said.
In 2000, Martha Hart and the WWE settled a wrongful death lawsuit and she established the Owen Hart Foundation later that year.
McDevitt called the lawsuit "a political stunt" coming as McMahon campaigns. Martha Hart's suit and accompanying news conference were the first time the company has heard from her since she legally settled with them in 2000, he said.
"I don't think you'd see what happened today if Linda wasn't running for Senate," McDevitt said. Martha Hart denied her case had anything to do with the campaign but said voters in Connecticut should question Linda McMahon's moral character.
McMahon is running in a high-profile race for the U.S. Senate seat Chris Dodd currently holds. She's in a race against financial pundit Peter Schiff and former U.S. Rep. Rob Simmons, who has stopped his campaigning but will remain on the Republican primary ballot.
One of the reasons Simmons ending his active campaigning is campaign spending. McMahon has pledged to spend $50 million of her own money in her quest for office.
"In the eleven years since Owen's tragic and avoidable death, I have worked tirelessly to disassociate Owen's name and likeness from anything related to WWE in order to protect our children from any reminder of the circumstances surrounding their father's death, and to avoid any misplaced perception that I endorse WWE," Martha Hart said in a statement.
She went on to say, "Unfortunately, even though WWE, Vince McMahon and Linda McMahon were and are well aware of my wishes and desire to shield my children from WWE and its activities, I was shocked to learn earlier this year that they have been using Owen's name and likeness in videos, websites, television programs and print materials. Given this callous, insensitive and irresponsible behavior, one must question the moral character of Vince and Linda McMahon and the manner in which they conduct their business."
"The death of Owen Hart was a tragic accident and this claim is nothing more than pure political orchestration," Robert Zimmerman, a spokesman for the WWE said.
McDevitt, the company's attorney, argued that the WWE has the right to use copyrighted material featuring Owen Hart. The publicly traded company released a video in April called "Hart & Soul: The Hart Family Anthology," which features Owen Hart and other wrestlers in the Hart family, some of whom still perform for the WWE.
"Martha Hart does not have some exclusive right to the story of her husband; it's just that simple," McDevitt said.
Martha Hart wants to prevent the WWE from further use of Owen Hart's name and likeness and wants unpaid royalties as well as damages for breach of contract, copyright infringement, unjust enrichment, accounting and unfair and deceptive trade practices.
Copyright AP - Associated Press