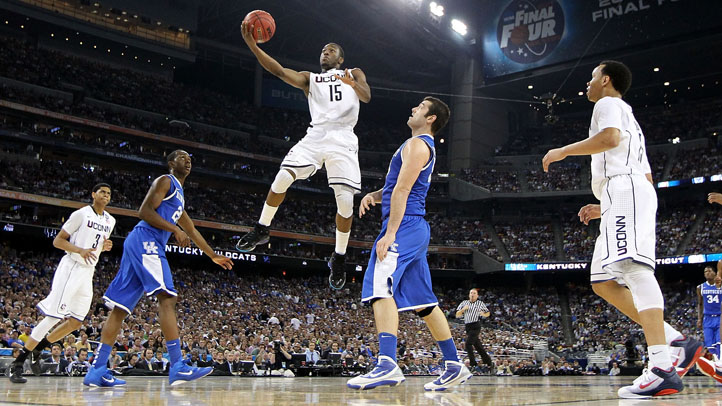 At this point we're all intimately familiar with the backstory: UConn was unranked to begin the season; reeled off 10 in a row (including the Maui Invitational) to climb to No. 4 in the country; and then youth, inexperience and the NCAA caught up with them and the last two months of the season made for a bumpy ride. But that which doesn't kill you…
The Huskies lost three of four games to end the regular season and haven't lost since. They are 10-0, Big East Tournament champs, and a game away from one of the unlikeliest outfits to win the NCAA Championship since, what, Villanova in 1985?

(You could make a case that if Butler wins, they'd be just as unlikely, but despite their mid-major status, the Bulldogs were in the finals last year, too. They're an experienced team with good players. What conference they play in doesn't matter.)

Another mind-boggling note: the UConn men are still playing while the women, the No. 1-ranked team for much of the season, are headed home after a Final Four loss to Notre Dame.

But after what the Huskies have accomplished since March 8, the first day of the conference tournament, previous performance and common sense go out the window. UConn barely resembles their regular-season selves, and it is mostly a function of the young players. Kemba Walker hasn't changed; he's still a one-man game-changer, the guy other teams have to stop. But the other players, the names that no one knew in November and are now regularly mentioned by the national media, have been the difference between a middle-of-the-pack Big East squad and national title contender. Jeremy Lamb and Shabazz Napier are frequently cited, but freshmen Niels Giffey and Tyler Olander have also contributed.
Still, despite the Huskies' youth, there is a concern that the season might be one game too long. The national championship will be UConn's 41st game of the season, and their 11th in 27 days. Against Kentucky in the Final Four, the team looked physically exhausted.

Coach Jim Calhoun admitted as much Sunday saying "We didn't have much left on Saturday night. So I am aware of it. We will go very light in practice today.''

It's also the reason Louisville coach Rick Pitino likes Butler.

"I think Butler will win the game, and it won't be at the buzzer," Pitino said Sunday, according to ESPN's Pat Forde. "It'll be by seven or eight points. … My observation is that Connecticut's a tired team right now," he said. "I think Kemba [Walker] is worn out. I think Butler is the winner because of it."

UConn can win many different ways, but not without Walker playing well. The Bulldogs, like everyone else in the country, knows this.

Butler assistant head coach Matthew Graves calls Walker "without a doubt the best individual player in terms of importance to his team that we've faced."

While slowing Walker down is a huge priority, the Bulldogs won't let the task consume them.

"Kemba makes it tough for you," guard Ronald Nored said, according to the Associated Press. "But the great thing about people is they all have tendencies. Everyone has something that they're good at; everyone has something that they're probably not as good at, or they're not as efficient at. In the next few hours, there's going to be a lot of breakdowns."

If Saturday's victory over Kentucky is any indication, the Huskies are running on fumes. That said, it's worth remembering two things: 1) They still won, and 2) Walker is on a mission. During UConn's improbable three-week run he's said that he could play every night. It's hard to imagine that he doesn't have 40 minutes left in him.