Things are starting to get interesting for those of us who enjoy winter weather. Our computer models are now starting to show a rising chance for accumulating snow and ice Sunday night and Monday. While it's too far out to get into the specifcs I want to dig into this store and take a look at what scenarios are most likely and which are not.
Right off the bat I should mention that a period of light snow is possible on Sunday. A bit of moisture and cold temperatures may be just enough to squeeze out some off and on snow. This won't be a big deal but don't be surprised to see some "mood flakes" in the air. One thing our models are showing is quite a bit of moisture above our heads where the temperature is around -15C which can produce fluffy snowflakes with even the most modest lift.
Now on to the fun stuff - at least for a meteorologist like me :)
There's two main scenarios for the Sunday night and Monday storm. The GFS model has a stronger storm that's farther inland which would mean a real mess of a storm from snow to ice to rain. The European (ECMWF) model on the other hand has a much weaker storm with a surface low that tracks just south of us. This scenario would be mainly snow - even around New Haven. You can see the difference here comparing the two model solutions. Ironically, the weaker storm is the one that would be the most snowy for us.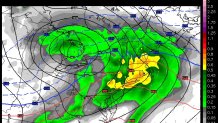 The ECMWF solution is a weak 1008mb low near Erie, PA with redevelopment south of Connecticut while the GFS is a 992mb low over Detroit, MI. This is a big difference! The latter would flood us with warm air changing any snow and mix to rain. What is important to note is that either solution would provide us with at least a period wintry weather given the cold high north.
So which is most likely? One of the things we like to look at are the ensembles of these 2 models. Basically we take the model (GFS or Euro) and make small tweaks to the initial conditions and model physics and run the model a bunch of times. In the case of the GFS we run it 21 times and the Euro 51 times. Ideally, this gives us a spread of possible solutions. Here's a look at the 21 GFS ensemble members predicted snowfall through Tuesday morning. While the numbers aren't particularly instructive - the spread or range of solutions is useful to look at.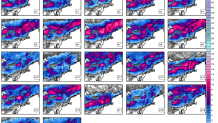 The stronger solutions (like the strong low over Detroit and Toronto) generally produce less snow while the weaker solutions like the ECMWF produce more snow.
Another way of looking at these ensembles is figure out the probability of a certain weather variable occuring. For example, of the 21 GFS ensembles (GEFS) how many of them show >3" of snow. Is it 20 of the 21 or 3 of the 21? The GEFS show about a 60% chance of >3" of snow in the far Northwest Corner and a 10% chance in the southeast corner. There are clearly a lot of milder solutions of the 21 ensemble members indicating a snow/mix/rain solution. The European ensembles (EPS) are much colder with a better than 50% chance of >3" of snow around New Haven and a 70% chance in the hills. Definitely a colder set of solutions.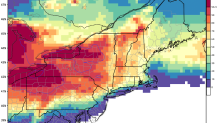 With all of the above in mind it's fair to say a winter storm is a pretty good bet across the state later Sunday and especially Monday. How much snow we get is still an open question. There's a substantial spread in our models AND in the ensembles with the strength and track of the low to our west. However, there is a fair amount of cold at the onset with a nice looking high to the north - this should guarantee at least some wintry precipitation.
Worst case scenario (if the ECMWF is right) this is a 6"+ kind of storm across a good chunk of southern New England. If the GFS is right and we see warmth flooding in expect a 1"-3" kind of deal to sleet/freezing rain and then over to rain. Both are reasonable possibilities at this point and both would make a mess of the Monday morning commute.
Stay tuned!