Our meteorologists are focusing their attention on the next weather system that moves into the state late this afternoon and tonight.
A mixture of snow, sleet, freezing rain, and plain rain is expected from late this afternoon and into Thursday morning and winter weather advisories are in effect for the entire state.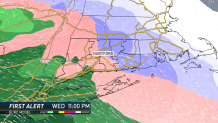 Snow will transition to freezing rain and plain rain along the shoreline.
A longer period of icing is expected for interior Connecticut.
We're looking at a coating to two inches of snow across the state.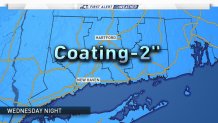 Some schools have canceled afternoon or evening activities for Wednesday night. See the full list here.
Stay with the NBC Connecticut First Alert Weather team for continuous updates.