What to Know
Heavy rain fell through much of the day leading to flooding in several cities, including New Haven. Meriden registered nearly 3" of rain.
The rain is expecting to wind down this afternoon and come to an end tonight.
Winds will remain gusty but ease later in the day.
Click here for the latest forecast from the NBC Connecticut First Alert Weather team
Sleet and slushy conditions led to dozens of school delays Monday morning. Then, rain led to flooding, including in Newington, where the school district warned parents that buses would be late in getting children home due to flooding.
The NBC Connecticut meteorologists issued a First Alert for the weather roller coaster, which started Sunday with wintry weather and has brought sleet, rain, thunder and lighting.
As of 12:30 p.m., much of New Haven County had registered more than two inches of rain.
Crews from the Department of Public Works in New Haven closed Middletown Avenue after several vehicles, including school buses, drove through the flooded road. Streets around Union Station in the Elm City were also flooded.
West Haven and Milford are two additional communities dealing with flooding.
In Newington, the school district warned that buses would be running late because of road conditions.
The notice from the school department said the transportation department was working on a list of streets that might be problematic for afternoon drop-off and school officials would be making every effort to communicate to parents if there is an issue with their street.
"While we don't want to flood our school parking lots, it might not be a bad idea to pick your child up at school today if you have the means. It is safe to say, the buses will be running late today but please don't worry. Our drivers are seasoned professionals and the safety of our children is their first priority. They will take a little extra time to be sure everyone gets home safe and sound," the statement from the school district says.
Norwalk police said there was flooding in South Norwalk and they are urging people not to drive through standing water. Stamford is also dealing with flooding that closed parts of Jefferson Street and Elm Street.

The National Weather Service warns that more deaths occur due to flooding each year than any other thunderstorm related hazard.
Six inches of fast-moving water can knock an adult over, while a foot of rushing water can carry away most cars and two feet can carry away SUVs and trucks, according to the National Weather Service.
Wintry weather moved into the state Sunday evening, with some sleet and freezing drizzle.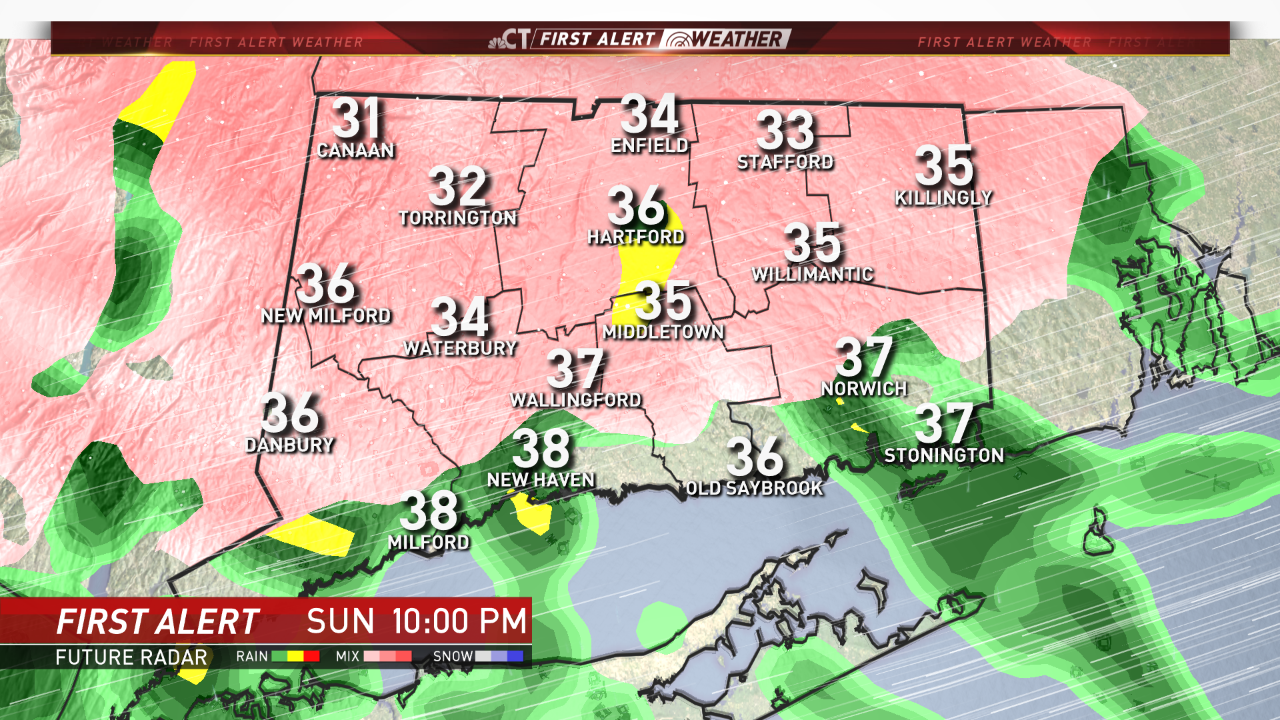 Winds will become gusty, with gusts of 35 to 45 mph expected.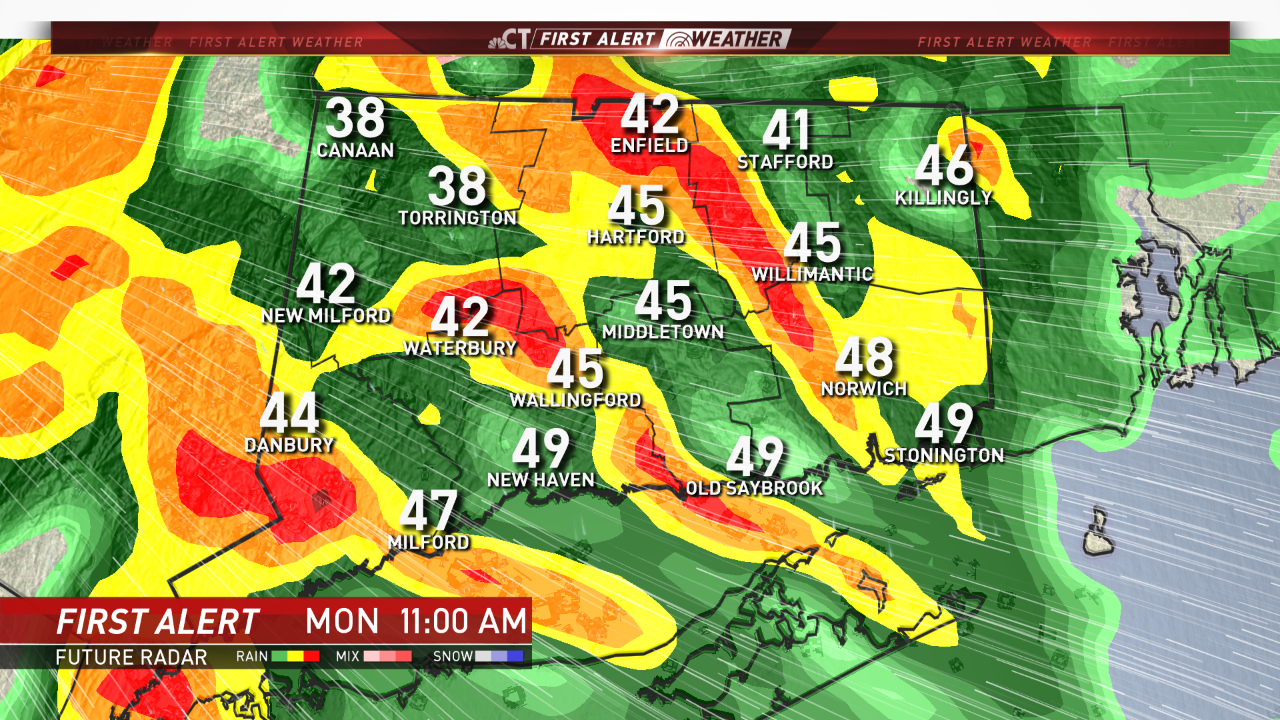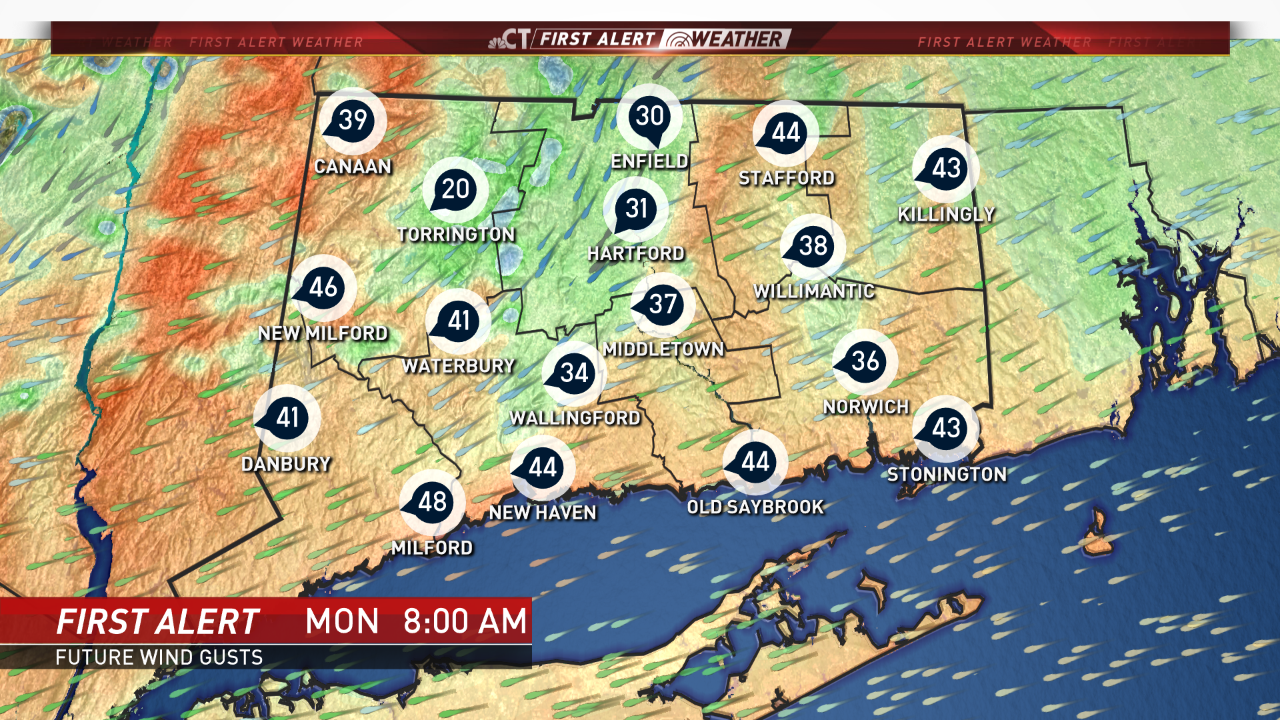 The unsettled weather will exit the state by tonight with gradual clearing.
Stay with the First Alert weather team for continuous updates on this wild weather.